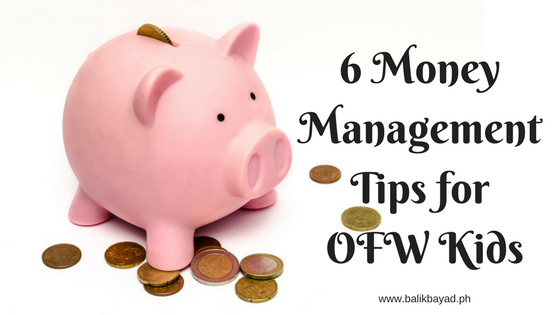 Parents are the kids' first teacher. Being their first teacher, you are tasked to teach not only the basic knowledge they will need in school such as letters and numbers but also life skills and values they will need later on in their lives. This includes money management.
If you are an OFW parent, this is something you need to work on with your kids even if you are miles apart. This is because the financial success as a family will depend not just on you and how you save but also how your family, including your children, treat money. You need to impart the value of money on your children not only to allow them to buy what they want but also for their future.
You might ask how. You can try these tips:
1) Always start with a piggy bank. 
You can never go wrong with the good ol' piggy bank. In fact, this is still the most basic way to teach kids about money and saving.
Give them a piggy bank – and make sure it is something they cannot easily open to prevent any form of temptation. This way, your children will realize and understand how to grow money and at the same time, teach them the concept of saving. At the same time, you teach your kids the importance of safekeeping money.
Tip: Let your child choose his/her piggy bank. This could encourage your child more to fill it up if they like what they're seeing.
2) Minimize monetary reward. 
Your child helped in washing the dishes or cleaned his room. That means P50 each for every chore done and that will keep your child happy.
It's okay to give monetary reward to your children for every good deed, but you are not really teaching your kids the importance and value of money. Instead of understanding the life skills you want to impart on your kids, their main motivation is money.
What you can do is to set a positive reward system for every good deed. For instance, every chore done equates to one star and 10 stars mean they can get an item they like that will be included in the balikbayan box.
3) Try delayed gratification. 
Let's say your son wants a new rubber shoes, which is not yet available in the Philippines. To make up for the time lost, you decided to buy it on your next payday and send a package back home.
Unfortunately, this is not the best way to go. To teach the value of money, you need to practice delayed gratification.
"10 sleeps seem like eternity for them," you might say. That's true. What you can do is to make a compromise with your kids instead of giving them what they want immediately. For instance, if they can save P100, you will give them P200 to match their savings. It's hard to explain, but kids will realize the importance of money if you don't easily give in to their demands.
4) Make the most out of your vacation by teaching them about money. 
Read stories about money, including stories about successful entrepreneurs who started from scratch or OFW-turned-businessmen. You can also tour the Bangko Sentral ng Pilipinas museum to give them a better understanding of money while showing them the evolution of peso throughout the years.
Another activity you can try is to go to the grocery with your kids. Give them a budget (preferably not more than P300) and let them buy what they want as long as it is within the given budget.
Visiting a bank is also a must if you are in the Philippines. This can be a good way for your child to observe how money is kept and the different products offered to help people grow their money.
5) Keep them involved in the budget. 
Budget is a collective effort and is something shared with every member of the family. Before you leave for work abroad or during your stay in the Philippines, make sure to sit down as a family and discuss how the family budget will go. Listen to what your kids have to say as well and explain why you can't consider their input, especially if their suggestions are not necessary (for instance, weekly eating out).
Let the voice of your kids be heard.
6) Set a good example. 
Children learn by example. Before you teach them about money and savings, make sure you show them how these concepts are applied in your daily life. Don't expect them to save if you constantly send them a balikbayan box full of goodies. If you want them to embrace the value of money, show and live a prudent and simple life.
Being a parent is not easy, especially if you are miles away from your family. Nonetheless, don't use it as an excuse for poor money management. Everything starts from home so be a good example.