There is a reason why your spouse decided to take a leap of faith and work overseas: s/he wanted to provide a better life for you and your children. Since s/he is earning more by working abroad, getting that dream home or setting up your retirement fund is now possible.
Admit it. There are times when you are tempted to spend the money sent by your spouse to buy new set of clothes, shoes for your kids, and even the latest gadgets. "Pwede naman magpadala ulit eh. Minsan lang naman," you tell yourself.
Don't be too complacent. The problem with this kind of thinking is that you will constantly look for excuses to justify your spending that you might be surprised finding yourself with little to no money left. Worse, you lose the trust of your spouse, who is working hard just to make sure s/he provides a better life.
What can you do to protect and preserve your spouse's hard-earned money? Here's what: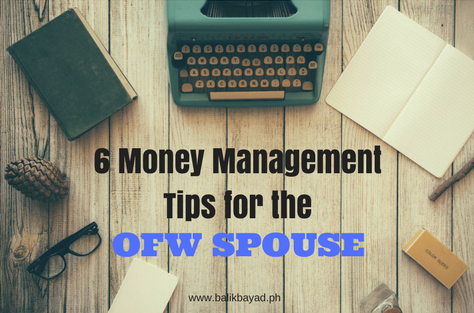 1) Live a simple and modest lifestyle.
The thought of your spouse earning in dollars excites you. Finally, you can afford beautiful things you never thought you could own. As a result, you upgraded your lifestyle, buying things you don't really need. Still, keep in mind that every peso you spend is equivalent to blood, sweat, tears, and hard work of your spouse who sacrificed a lot just to provide a better life for your family.
Therefore, live a simple life. Being an OFW is not forever. Maintain a simple lifestyle and use your spouse's hard-earned money for important things such as savings.
2) Set a budget. 
Here's how to do it: determine how much money your spouse is sending every month. Then make a list of all the expenses, whether daily, weekly, or monthly and then deduct it from the money you are getting to see how much you have left. Whatever is left must be allocated to savings and investment.
Tip: Check your list of expenses and see what you can eliminate from the list. Make sure to prioritize basic necessities so you can have more budget for savings.
3) Don't be too generous. 
Common Filipino thinking dictates that when one member of the family is working overseas, the entire family is living a good life. As a result, you are often a prey to your relatives' needs. They would often call you and ask if they can borrow money or finance their needs.
DON'T GIVE IN all the time. Remember that your spouse is working hard for that money sent to you. Don't give it away for the sake of utang na loob. Put your family's needs first before the others. When you are the one in need, they might not even help you anyway.
4) Take it easy on loans and credit cards. 
Loans and credit cards are there to save the day, especially during emergency. (READ: When is the right time to apply for a loan?) On the other hand, there are cases when you need to say no to protect your family's financial status.
As much as possible, save up for what you need and pay it in cash. Don't spend the money you still don't have. If you are not too careful, you might find yourself swimming in a pool of debt and you don't want that to happen.
5) Keep the kids involved in handling finances. 
Handling your spouse's money is not just your sole responsibility. Make sure you include your kids, if any, on various ways to preserve your spouse's hard-earned money. Encourage saving, no matter how small the amount is. Set financial goals that your kids can easily achieve. By keeping them involved, you will be able to grow your spouse's money in no time.
6) Educate yourself about investment. 
Do you know that common reason why Filipinos don't invest? It's because they don't know or they don't understand how it works.
The good news is there are tons of information available online that will help you understand how various investment products works. Take advantage of the videos, articles, and courses offered to educate yourself more about the many investment tools you can try. The more educated you are, the better the possibility of growing your money.
Remember that being an OFW is not forever. There will come a time when your spouse will go home or his employment will be cut short and you need to be prepared when that time comes. Save, invest, and live a simple life. These tricks will help you sustain a better future for the family.