What comes to your mind when you hear the term, "investment?" Oftentimes, most OFWs would think of it as property since the value appreciates. This explains why many OFWs save to purchase their dream home, no matter how small it would be.
Here's the thing: if you want to buy your dream house, you need to have enough cash to pay for the monthly amortization. Unfortunately, your contract abroad lasts for two years (or three) with a risk of non-renewal. To make sure you can purchase your home, you need to start growing your money and one way to help you with this is by investing in the stock market.
Don't fret. Here's every OFW guide on how to invest in the stock market: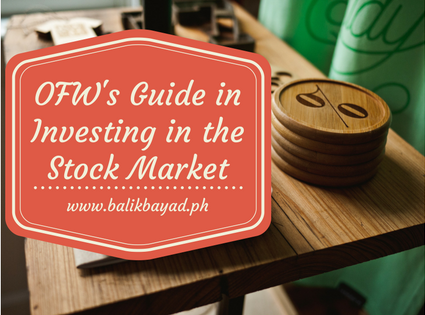 1) Read up and learn everything about the stock market. 
Most people will say this: "I can't understand how the stock market works." Fine, but are you making enough effort to at least understand what stocks are?
There are tons of materials available online – articles, Youtube videos, and even blogs dedicated to the stock market. Read up and educate yourself about how it works, techniques and strategies to employ, and the best stocks to buy. Don't be afraid to ask questions too, because the more informed you are, the better the return will be.
Don't just limit yourself with learning how the stock market works. Keep in mind that everything is related in the financial and economic world. Keep yourself updated about what's happening in the Philippines because this could affect the prices of every share.
2) Set aside your budget. 
As a rule, the higher your investment is, the higher the return will be. Nonetheless, you need to consider your earnings since you can't put all your money in stocks.
You can start with as little as P5,000 and add money eventually to grow your investment. The important thing is you should be able to set aside a budget that you are comfortable with. Just make sure you won't invest all, otherwise, you might not have enough cash for the rainy days.
3) Choose the right stocks. 
Most people will tell you to invest in blue chip stocks or stocks of big, well-established, and financially-sound companies. In other words, companies that stood the test of time and have been in existence for decades. This includes PLDT, Ayala Corporation, SM Prime, Globe, and San Miguel among others. These companies often give considerate amount of dividends and you are sure that no matter what happens, they will always be standing tall.
Does this mean you shouldn't invest in non-blue chip stocks? Not necessarily. If you are willing to play it out and want to earn something extra, they are worth the risk. Look into the company's stocks' history to help you determine when is the right time to invest and how much you should shell out.
4) Always deal with a licensed firm or broker. 
You cannot directly deposit your investment with Philippine Stock Exchange itself. There are brokers or licensed and legitimate firms that will help you in the trading process. Before you start with your stock market investment, make sure you deal with licensed firms only. Don't easily believe people who promise higher return in just one week since there is a chance that you are dealing with a fraudster.
Check out this list of licensed online brokers by the PSE. Their online facilities allows you to check, buy and sell stocks, and manipulate your investments even if you are working abroad.
5) Treat the stock market as your business. 
Starting your own business can be difficult and challenging, especially if you are abroad. If you can't establish your business now, then the stock market can be a good option because it allows you to invest in existing companies.
Think of it as a partnership. You invest in a company and in return, you get dividends. If the price of the stocks increase compared to how much you initially bought it, you get something from it and the earnings are all yours.
So, are you ready to make that investment?