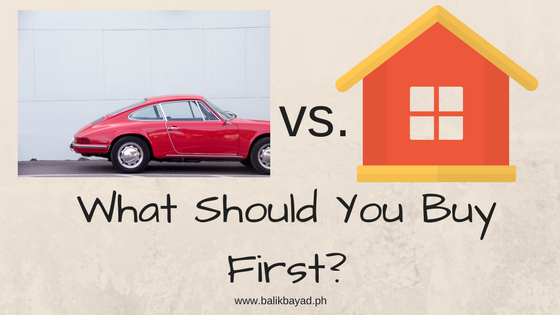 Let's say you have a five million pesos at your disposal. What will you buy first – a car or a house? Or both?
This is a common dilemma among many OFW families. You work hard overseas to give your family the best things in the world and that includes a house and a car you can call your own, Apparently, you can't have both since both are major purchases that could affect your cash flow.
This leads you now to the next dilemma: what should you buy first between a car and a house? We hope this post will help to help you decide on which is worth investing first.
But first, evaluate your current situation 
Before you decide on what to buy, you need to assess your current financial standing first. Here are some questions you need to answer to help you evaluate your financial condition:
How much money am I making?
How much money do I have left after all expenses and savings?
Can I pay the car or house in full?
How much do I have to pay if I decide to get a car or a house?
What expenses can I forego in order to accommodate the loan?
Do I have extra money to accommodate the monthly amortization?
Will the monthly amortization create a strain on my buying capacity?
Do I have savings or emergency fund that could back me up in case of loss employment?
These simple questions can help you look into your financial standing and determine whether or not buying a new car or house is within your means.
Buying your dream car
Advantages
Allows you to go from one place to another with ease and comfort since you and your family don't have to ride public transport.
Makes it easier for you to travel with your family, especially if you are going out of the city.
If you avail of a loan, you can choose your loan term according to your capacity to pay, but up to five years only. This makes it faster for you to pay off your loan.
Disadvantages
You have to pay for after-sales costs such as insurance, car maintenance, and repairs in case the car breakdowns.
It is advisable that you have a parking slot first to avoid causing hassle not just on your neighbors but also on other people who pass by your area.
The price of the car depreciates over time and as soon as it stepped out of the dealer's store. This means the P1 million car you bought now will only be less than that after a year.
Buying your dream house
Advantages
Owning a house is a status symbol that signifies financial achievement.
The price appreciates over time. If you buy a house worth P1 million today, there is a higher possibility that the value will be doubled or even tripled after 10 years, especially if you bought the right property in the right location.
A type of investment that you can pass on to other generations.
You can finally have a place you can call your own.
Disadvantages
There are many developers who are offering sub-standard quality of houses. Before you make a purchase, make sure to check the developer to make sure you are getting your money's worth.
Higher monthly amortization with longer loan term.
More costly to maintain compared to cars.
Whether you decide to go for the car or house is all up to you. We enumerated the pros and cons of buying a car or a house to help you decide on the best investment option. Use this as a guide and more importantly, consider your family's needs to help you in making the right purchase.