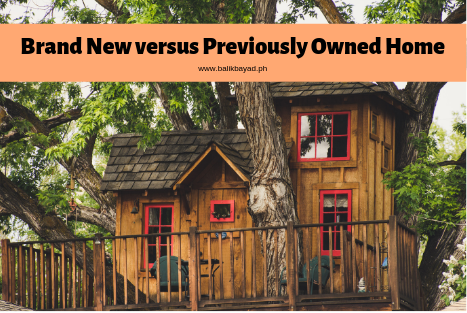 One of the things OFWs would want to buy is a house. After all, who doesn't want to have a place they could call their own, right?
Here's the next question: what type of house should you buy? Should you go for a brand-new house or pre-owned?
The truth is you can buy any. Before you do, you need to know the pros and cons of buying brand new or a pre-owned house to help you decide better.
Let's Go for a Brand-New House
When we say brand new house, we mean houses or condominium units built by real estate developers. It's a different case if you simply bought a property and have someone construct your dream home.
Below are the pros of buying a brand-new house:
The design of the house is modern and contemporary since it was built according to the latest trends.
You don't need to worry about repairs since the house was newly-constructed. In fact, everything is new.
Minimal changes can be done, which you must address during the construction phase. Nonetheless, this is applicable if you will be buying a house constructed by a real estate company.
You can easily design and personalize the house according to your own preferences.
On the other hand, here are the downside of buying brand new:
The selling price is higher. Real estate tends to increase in value, so you need to consider the selling price first before you say yes.
If you will be buying in a subdivision, then the house will look the same as the rest. Still, you could make minor changes outside that will set your house apart from the rest.
Room for price negotiation is limited.
The space and interior of the house may be limited since developers follow a specific layout.
That being said, you still need to check on the legitimacy and trustworthiness of the developer. Inspection is also a must, so make sure you schedule an ocular visit to get to feel the neighborhood.
Pre-Owned Home is the Way to Go
Let's say you decided to go for a pre-owned house. That's fine.
Here are the good things about buying this type of house:
Price is lower compared to brand-new houses. Some are even willing to sell it market value just to sell the property.
Speaking of prices, there is more room for negotiation. This is why house inspection is important so that you could see the condition of the house and negotiate according to the present condition.
There are more options that could suit your preferences. In fact, you could see houses that hit all of the requirements in your checklist.
Consequently, there are downsides to buying a pre-owned house. This includes:
You need to consider repairs and/or renovation. Pre-owned house means someone lived there. You have to check every tiny detail and make repairs to make sure that the house is liveable. Make sure you address leaks and pests since this could compromise the integrity of the house. You might even be tempted to change locks, overhaul certain parts of the house, and do re-painting jobs.
There is semblance of the past. The pre-owned house was built years ago, which means there are portions of the house that reflect the trends from the past. If this doesn't suit you, then you might want to include this in your renovation plans.
Whether you like it or not, someone lived in that house. You might not be comfortable with that idea, which means getting a brand-new house is more suitable for you.
Should you decide to buy a second-hand home, make sure you make thorough inspection. It's hard to back out once you decide to say yes to a particular house.