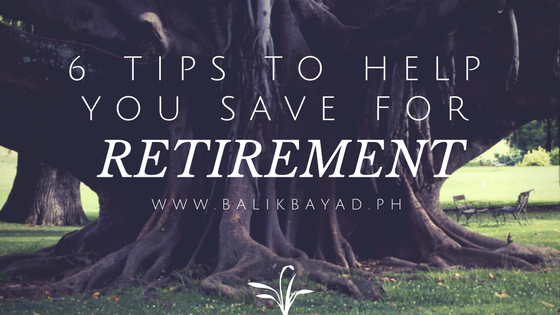 They say being an OFW is not forever. That's true. This is why it is important to strike while the iron is hot and save as much as you can not just for emergency purposes but also for your retirement.
"How can I do that?" you might ask. Where to start and how much you should set aside is also a big question.
Don't worry. This post will tell you everything you need to know and do to help you save for your retirement.
1) Two words: Start early. 
This is the first step in establishing your retirement fund. There is no hard-and-fast rule but to start early and start as soon as you can. The earlier you start, the more you can save.
2) It's more than just having a savings account. 
You might think that the only way to establish a retirement fund is by setting aside a certain amount every month and depositing it in a savings account. Apparently, that is not enough.
Keep in mind that building a retirement fund is more than just making regular, monthly deposits. Your money won't grow big, especially if you target millions by the time you retire at 35, which is why you need to invest in other financial products too. Don't limit yourself with savings account and explore other options such as stocks, mutual fund, or bonds since they yield higher returns.
Read more about your investment options here. 
3) Set aside an amount and then COMMIT. 
At this point, you established the many ways on how you can grow your money. You also decided on the investment option to try to boost your retirement fund. The next thing you need to do is to establish how much money you will set aside for your fund and making sure you stick to it.
For instance, if you are 30 years old and you want to save one million for your retirement fund, then you should set aside P3,000 every month for 30 years to attain this.
It's not going to be easy since it requires discipline and commitment. It will be challenging at first, but once you start getting used to it, saving for your retirement fund will be a breeze. Remember, consistency and commitment go a long way.
4) Live simply and within your means. 
Don't be too complacent just because you are earning in dollars. You will never know what will happen and you need to set aside a portion of your income for retirement, so it is best to always live a simple life and within your means. Pay for the basic necessities and do not spend you money on things that you will not need later on.
Before you buy something, ask yourself if you really need it and how long you plan to use it. Think twice before you buy.
5) Take it easy on loans. 
There are instances when you will need to apply for a loan, especially when you are short of cash. That's understandable. Before you submit your loan application, evaluate and ask yourself if you really need one. The money you will use to pay for the monthly amortization is better off with your retirement fund. Plus, you don't want to be buried in debt, do you?
6) Pay off existing debts, if any. 
Do you want to know another secret to having a bigger retirement fund? Try your best to be debt-free. You will never be able to contribute a big amount in your retirement fund if a portion of your salary is also paying off debts.
Therefore, pay any existing debts, whether personal loan, housing loan, or even credit card debts. At the same time, avoid incurring further debts. If you can't afford a new car yet or a vacation with the family, then delay them for now. It will be easier for you to grow your money if you are debt-free.
With these tips in mind, are you ready to put up your retirement fund?