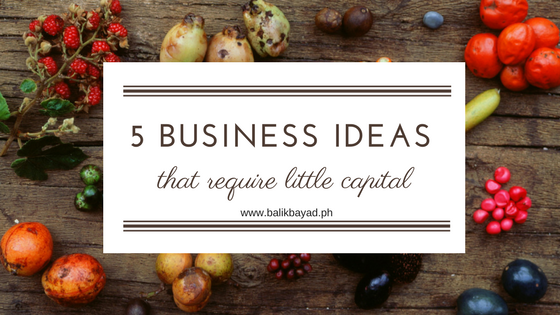 Let's say you won in the lottery and the jackpot prize is P50 million. What will you do with the money? Surely, you'll buy your own house, car (or two!), pay off all your debts, and put up your own business.
What if we tell you that you don't need millions to become an entrepreneur? Believe it or not, there are business ideas worth trying with only little money involved. Even if it didn't turn out the way you hoped it would, at least you did not invest a big chunk of your savings on it.
If you are an OFW and looking for affordable business ideas that could help increase your family's cash flow, then this one is for you. Check out this list and find out what could work for you:
1) Street food business
Many Filipinos love to eat fishballs, kikiam, pork barbecue, isaw, kwek-kwek, and any other street food you can find, especially for merienda. Take advantage of that by putting up your own street food business. All you need is a stall, which can even be in front of your home, griller, and food variants you will sell and you're all set.
Tip: Aside from the staples, offer other foods like cheese sticks, french fries, hotdogs, and even hard-boiled eggs. Having a variety means you get to cater to different markets, both old and young. Don't forget the drinks.
2) Cellphone loading 
Who doesn't have or need a mobile phone? It doesn't matter how much it costs, but many people need a phone to make communication easier and more convenient. Since not everyone can afford getting a post-paid plan, many Filipinos are still sticking to prepaid. This can be a perfect opportunity to make the most out of this demand by having your own cellphone loading station.
The capital to start this business plus the return may not be that big, but it could give you something extra for the rainy days.
Tip: Make sure that load is available anytime. The more consistent you are, the more customers you will have.
3) Eatery or Carinderia
Who doesn't love food? If your spouse has the knack for cooking and serving delicious meals, then maximize that talent and put up your own carinderia.
Don't be afraid to try this one. Target market is not an issue, but the key here is your location, so make sure to set up the carinderia in the right place.
Tip: Consider food delivery service in offices or any business establishments. Everyday, make a menu and deliver the food according to the number of orders. This will give your family extra cash, plus who knows, it could lead to something bigger, say your own restaurant.
4) Food Cart 
Let's say you are drawn to the food business but not really into cooking. That's fine. There are many franchisers offering food carts for as little as P20,000, which is ideal for starting entrepreneurs like you.
The good thing about this business is that you don't have to worry about anything since everything is provided, except that you need the right location. Make sure you choose an area with high foot traffic to encourage more sales.
Tip: Take a risk and start your own food cart. With the right marketing techniques and product, you might soon be a franchisor with people wanting to franchise your business.
5) Online Selling
Online entrepreneurs are becoming popular these days. All you need is a laptop, a good camera, decent Internet connection, and products to sell, and you're good to go. You can source your products from where you are working or if any of your family members is good at anything, say crafting or baking, then maximize on it.
For starters, you can advertise your products in e-commerce sites like Ebay Philippines and OLX. Facebook and Instagram are also popular channels with many users logging in everyday (who can be your potential customers too). Just make sure to update your page regularly and be nice to customers.
Tip: Choose a product that is not common to many online sellers. This will set you apart from the rest and you will be able to penetrate the market with lesser competition; hence higher sales.
Don't just limit yourself with these business ideas. Explore your options, know what is required of that particular venture, and stick to it. It will take time before you see the results of your investment, so be patient.