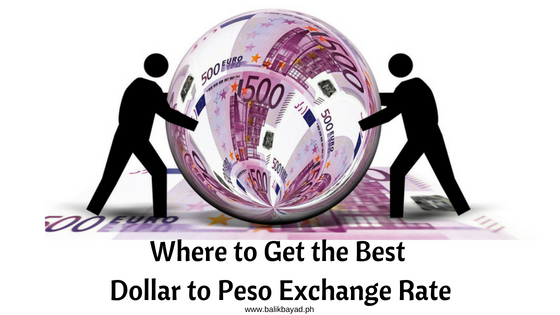 According to the Bangko Sentral ng Pilipinas, as of July 9, 2018, the US Dollar to Philippine Peso exchange rate is at P53.41. Unfortunately, the weakening peso doesn't look well for the economy, which is currently at its weakest in 12 years.
For OFW families like yours, now is the best time to send money and have it exchanged because your family will get more than usual. Weaker peso means higher value of money, which also means more spending power for your loved ones back home (as long as money is used for needs and necessities).
The question now is this: where can you get your dollars exchanged?
Here are your options:
Money Changer
Not many people are believers of money changers. Surprisingly enough, these entities offer higher, if not the best exchange rates compared to banks in order to attract customers.
If you want your family to make the most out of your remittances, then they might want to take that trip in Mabini Street in Ermita, Manila. The place is lined up with tons of money changers, whose rates are up to 20 percent higher than what is offered by banks.
Some of the best money changers you can find in this area are:
Czarina Foreign Exchange, which does not charge commission and accepts all major currencies aside from US dollar.
Tivoli Money Changer, also known for its better and competitive rates.
Edzen Money Changer, which is also known to have the highest exchange rate in Mabini area.
The downside of going to money changers is that you have to bring with you the cash already before you can employ their services. Otherwise, they won't transact with you without any assurance that you are already in possession of the money that needs to be exchanged. If you want a one-stop shop, then the next options would be ideal for you.
Remittance Centers 
This is another favorite among OFW families. Remittance centers are ideal because they can get their money and have it exchanged in peso. Many remittance centers also offer other services like bills payment, which means your family can already pay utility expenses without going elsewhere.
Still, don't expect high exchange rates compared to what money changers can offer. Remittance centers are also limited to US dollar and British pound among others, with some branch carrying US dollar only. Nonetheless, if your family wants convenience, then remittance centers like Cebuana Lhuillier, Palawan Pawnshop, and Western Union will do. Getting money is easy as well because all they need to do is to present ID to validate the identity of the recipient.
Foreign Exchange Counters in Malls
Speaking of convenience, malls also have foreign exchange counters, usually near the supermarket or department store where your family can exchange the money you sent. Rates are competitive and reasonable as well, although again, don't expect the kind of rate money changers can give you.
Nonetheless, doing forex transactions in the mall is also convenient because you can do other things after exchanging money. Keep in mind that forex counters in malls like SM and Robinson's only accept dollar (or other currency, depending on the location) to peso exchange and not the other way around.
Banks 
Banks are the safest facilities where you can send money and your family can get and exchange it. On the other hand, banks need to abide by certain rules, which means they are strict when it comes to foreign currency exchange transactions.
Banks like BDO, BPI, and Metrobank will allow forex transactions IF you will transact with the branch where you opened your account. They will also require presentation of certain documents like government-issued ID before the transaction pushes through. Don't even get started with the long line your family has to endure just to get the money you sent.
Among these facilities, which do you think is the ideal and most convenient for you?