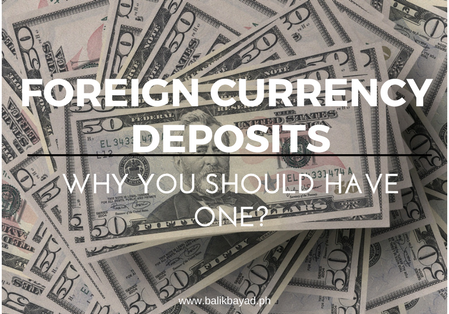 When it comes to savings account, you will always go for the basic Peso deposit account. That's okay. It is easier and more convenient to open. At the same time, your family needs peso and making money transfer in a peso account is less hassle for them.
Time and again, we always remind you not to limit yourself to savings account. Despite its convenience, it will not yield higher returns, which could come in handy in case of rainy days. Aside from your usual peso savings account, it is time to consider having a foreign currency deposit account and here's why:
1) No dormancy fee
Most savings account have no maintaining balance. Still, you are required to make a deposit at least once a year to maintain the account itself.
That is the beauty of having a foreign currency deposit account. It doesn't matter how long you haven't made any deposits. Even if it's two years or eight, no dormancy fee will be charged.
2) Withdraw in peso or dollar
Do you want to preserve your dollar (especially now that the dollar-to-peso exchange rate is high)? Then you can withdraw a portion of your money in peso. There is an option to withdraw in dollar too.
The beauty of having a dollar savings account is that you can make it work for you, especially now (as of this writing) that the dollar-to-peso exchange rate is higher. By the time you or your family withdrew money, you already earned something from it.
3) Diversified savings 
Aside from the "extra" you will earn from the exchange rate, your foreign deposit account will also earn dollars in interest as well. More importantly, this will provide diversity in your savings account and not just limit yourself with peso savings. Keep in mind that dollar is still among the most stable currencies, which you can use anywhere in the world and having one can be beneficial for your financial portfolio.
4) There are tax benefits
Yes, you can never get away from tax, but your foreign currency deposit account can (although not 100% since there is still final withholding tax). All foreign currency deposits, including interest and other earnings from such deposit is  exempt from tax, which is good news. This means more savings for you as well.
5) Easier remittance transactions
Coursing remittances on remittance companies instead of banks are more popular and favorable because of the benefits. Nonetheless, money transfer will be easier if you deposit directly to your foreign currency account through telegraphic transfer. This could cut the processing time, making money reach your family faster.
Before you open a foreign currency deposit account, evaluate first the need and importance of having one. This could be a good move if you plan to use it for retirement, but if the account will be utilized for everyday expenses, then it is more convenient to use a peso savings account.
If you plan to open one, BDO, BPI, Metrobank, Security Bank, and other commercial banks offer Third Currency products.