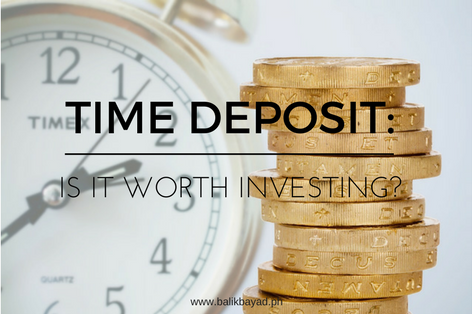 We know how important your hard-earned money is. This is why we always encourage you to save and invest as much as you can because you can never work overseas forever. Aside from savings account, one of the most popular products used by many is Time Deposit.
The question now is this: is time deposit worth it or you're better off with other investment products? Read on to find out.
But first, what is a time deposit? 
By definition, a time deposit is a type of investment product that allows you to earn interest over a fixed period or term, usually 30, 60, 90, 120, 180, or 380 days and  often higher than your typical savings account. Unlike savings account, you cannot withdraw money from the time deposit. Nonetheless, you are free to withdraw the money, either the entire amount or just the interest earned at the end of the term or renew it for another term (also referred to as roll-over) for higher earnings.
Aside from that, here are other things you need to know about time deposits:
Interest rate is higher because the pre-specified length of time allowed banks to use the money for re-lending or re-investment.
Maximum length for time deposit is 360 days, although some lenders introduced longer time deposits, some for up to six years.
The higher the amount deposited, the higher the interest rate.
Apart from peso, you can also open a Time Deposit account in other currency like dollar.
Covered under the Philippine Deposit Insurance Corporation (PDIC) for up to P500,000
Pros and Cons of Getting a Time Deposit 
Pros
Fixed and higher interest rate for the rest of the term.
One of the safest types of investment, which is less risky than stocks or property. You can leave it for the rest of the term and you are assured of return and earnings.
Easy to set up and maintain.
Interest is paid either by check or deposited straight to your account. You also have the option to re-invest the funds for accumulated earnings and interest.
You can dictate the term, depending on what is most convenient for you
Cons
Funds cannot be withdraws until the end of the term. In case of early termination, you will be asked to pay a Pre-Termination Fee.
In case you availed of interest payment, interest rate might be affected, often lower than the supposed rate offered.
Since the interest rate is fixed, you won't be able to benefit from the increase in interest rates.
Time deposits are not exempt from taxes. 20% final withholding tax on the interest earned and documentary stamp tax will be deducted.
Is time deposit the right one for you? 
The answer is it depends on your financial goals. If you are thinking long-term, say for retirement and you want something less risky, then time deposit can be a good option compared to stocks. You can just withdraw the interest earned and let your money grow. Still, don't expect bigger return since the rate is dependent on the time deposit amount. If you want to earn more in a short period, then there are other options to consider.
Nonetheless, time deposit can be a good investment, especially if you have cash to spare that you won't need yet. This could add diversity in your financial portfolio and more importantly, you are sure that your money is safe, sound, and earning.