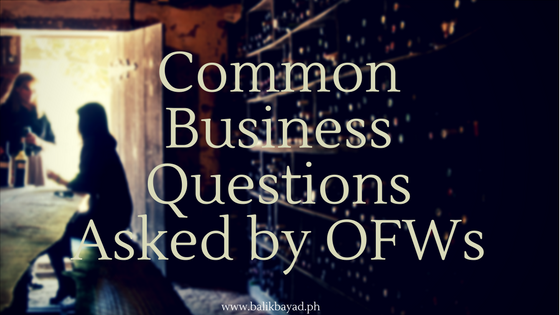 Working overseas is not forever. There will come a time when your contract will expire, or you'll get sick and required to go home, or the country where you're working will experience crisis, prompting you and the thousands of Filipinos to go home. Before that happens, you want to make sure that you are prepared – and by prepared, bear in mind that savings is not enough.
What's your plan B? Put up your own business.
Here's the thing: starting your own business can be tricky. Check out the most common business questions asked by OFWs and use this as a guide when you decide to start your own business too:
1) What is the best business for OFWs? 
It depends. There is no right or wrong idea when it comes to business. You can start with food carts, or sell your own tried-and-tested recipes, be an Uber or Grab driver, build your own poultry farm, or even star with a sari-sari store.
To help you determine the best business for you, it is imperative that you find out what you are most passionate about. The more you like what you're doing, the higher the chances of sticking to your business, which equates to growth as well.
You may check this post for some business ideas you can do for additional income.
2) Can I avail of a loan even if I'm abroad? 
Yes and no.
If you are working abroad, you may still apply for a loan through a representative. This chosen representative must have a Special Power of Attorney (SPA) authorizing him/her to transact and process the loan on your behalf. This SPA must be executed and certified in the Philippine Embassy or Consulate where you are located to make it binding.
On the other hand, some lenders require physical appearance to allow you to avail of a loan. They will require you to sign certain documents as the principal lender. Still, it is best to raise this concern directly to your chosen lender to be sure.
3) What if we don't have an asset we can use as a collateral, what can we do? 
Many lenders, especially banks, require any form of asset to guarantee the loan. It could be your land, house, car, or if allowed, the fruits of your existing business. By offering one of your assets as a collateral, it would give lenders a peace of mind, knowing that they can go after something in case you are unable to pay.
What if you don't have any asset to offer? You can still avail of a loan by doing any of the two:
Apply with a co-maker. A co-maker is someone who can help you pay off your loan in case of default, even if he does neither receive nor benefit from the loan. Check this link to know more about the role of a co-maker.
Go for a non-collateral loan. This type of loan is not backed up by any form of security. Nonetheless, you might pay higher interest rate every month. Read this post  to learn more about this type of loan.
4) How much money can I borrow? 
This depends on your capacity to pay and the collateral you will offer. The higher your income and the higher the value of the assessed property, the higher the amount you can borrow.
Here's the thing: many OFWs ask for more. For instance, if you are earning P50,000 every month and the assessed value of the property you are offering for collateral is only P300,000, then don't expect you can get a P1 million loan. Be realistic with the loanable value, otherwise, your application can be rejected.
5) What are the requirements I need to submit? 
This one will depend on the lender. Each lender has its own set of requirements, which you need to comply with in order to proceed with your loan application. This includes:
Duly accomplished application form provided by the lender
At least one government-issued ID
Latest Employment Contract, Certificate of Employment, or POEA Contract for land-based workers or Seaman's Book for seafarers, whichever is applicable
At least three months-worth of payslip or any other proof of income
Marriage contract, if married
Make sure to ask your chosen lender about the requirements needed for your loan application. Submit them completely to speed up the processing of your loan application.
6) Can I use the Business Loan for other purpose? 
Ideally, no. The purpose of business loan is to help you with working capital, in case you are just starting out, or to finance business expansion or to provide additional working capital for those with existing business.
There are specific loan products available according to your needs. Take advantage of those products since lenders treat them differently.
7) I have an existing business. Can I still apply for a business loan? 
Yes. In fact, business loans recognize the possibility of expansion or the need for additional working capital. Even if you have an existing business, you may still apply for a business loan as long as you meet the requirements.
Got more questions? Let us know in the comments section below.