Working overseas may promise you a better life since you are earning more than what you can earn in the Philippines. Still, this doesn't mean you should be complacent. After all, what you earn from working overseas is only as good as the effectivity of your employment contract.
The good news is there are some things you can do to ensure continuous and steady income for your family. Check out these simple start-up business ideas you can try and who knows, you don't need to go work overseas anymore: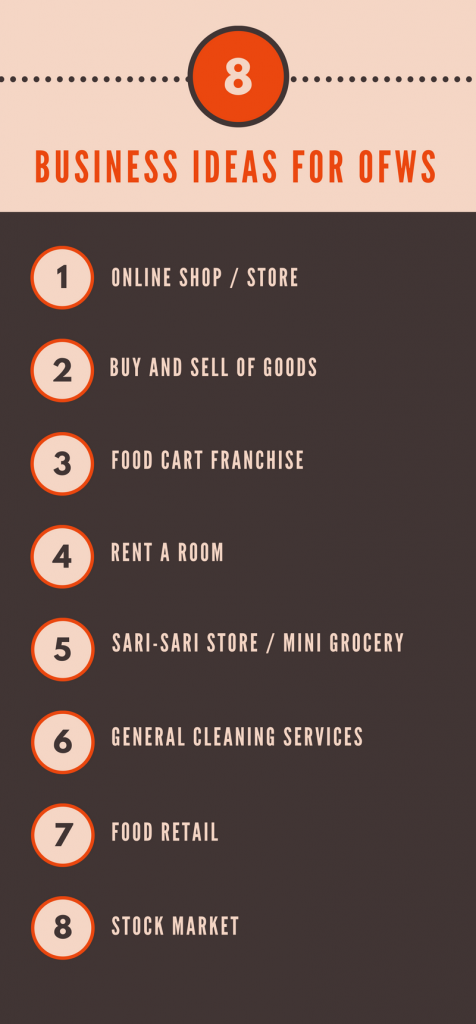 1. Online Shop / Store
One good thing about technology these days is the ability to reach out to people and make them aware of your product or service at the comfort of your home. Take advantage of Internet and social media, and put up your own online store.
What to sell is endless. You can start monetizing your hobbies or interests and sell or showcase them in various online selling channels. The good thing about this is that you are able to do something you love and make money out of it.
2. Buy and Sell
If you don't have time to do crafts or offer your services, buy and sell can be a great option to help you earn extra income. You can do this by buying items from the Philippines such as Filipino delicacies and selling them to the country where you are working or buy imported products and ship it in the Philippines.  The more unique or authentic the products are, the better.
You might need some extra hand from your family or relatives to help you with the inventory, coordinating of orders, and shipping.
3. Food Cart Franchise
This is a great startup business because you don't have to worry about what dishes to whip and a big space where your customers can sit.
The good thing about food cart franchising is that you can start small. In fact, P25,000 investment allows you to start your own food stall and at the same time, helps you develop and experience entrepreneurial and managerial skills while earning a steady income. Still, location and food stall to manage are crucial, so make sure you choose wisely.
4. Rent a Room
If you happen to have extra room in your apartment, consider renting it to fellow OFWs. The rental income you can get will help defray your expenses while allowing you to earn something extra.
5. Sari-Sari Store / Mini Grocery 
You might say it is common, but sari-sari store could be helpful in case you are looking for additional income. This cash-generating business is easy to manage and you or any member of your family can run it at the comfort of your home.
Tip: Sell imported goods in your sari-sari store at an affordable price. This will differentiate your stores from many others and may attract more customers. 
6. General Cleaning Services
If you worked in hotels or resorts, consider putting your housekeeping skills to good use by offering general cleaning services.
You can start with something more manageable such as laundry services. Eventually, move on to housekeeping such as cleaning, vacuuming, window washing, and mopping. If you are able to generate enough income, hire one or two people to help you or train any of your family members or add cleaning tools that will make your job easier.
7. Food Retail
Franchising can be a good startup, but if you prefer making your own dishes, then that's fine.
For starters, set up your own carenderia or consider delivering food to various business establishments. Baking goodies can be another option, especially if there is someone in the family who loves to bake. If you are willing to take a risk, venture into food business by opening your own stall or restaurant.
8. Stock Market
Believe it or not, investing in stock market is not that complicated. You might have to read some materials to help you better understand how the system works. Over time, you will be able to see the results of your investment.
Similar to other businesses, just be patient. Make sure you won't invest all of your hard-earned money in stock as well.
These business ideas can help generate additional income. Still, you will get to enjoy these benefits if you are able to manage it properly. Choose a business that you or your family can handle, give the business some time where you can earn, and be patient. Return of investment don't happen overnight.