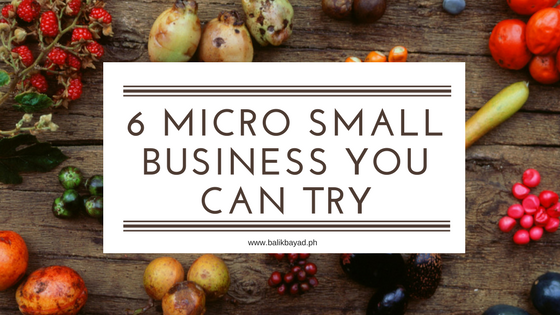 Admit it. No matter how much or how big you earn working overseas, it seems like the money you receive at the end of the month will never be enough. You will always feel responsible for all the expenses back home, which explains why you have to take an extra job to make ends meet.
Here's the thing: family expenses should NOT be your sole responsibility. Your spouse, in case you're married, should also be helping you in managing the money you send. Your kids must also take part in helping you manage the family's finances. One of the best things to make that happen is to make them responsible for something such as managing a small business.
You'll never know what will happen in the coming days. This is why it is important to save up for it – and these micro-small business ideas can help you and your family get started:
Sari-sari store
This is one, if not the most common business started by not just OFW families but by many Filipinos. It is simple, easy to set up and manage, and requires little capital.
Your home is an ideal location, especially if you live in areas with high foot traffic or within a residential area. If there are other stores in the neighborhood, make sure to check what they are selling and how much their prices are for their goods. Doing an inventory is also a must, so you will know what items are saleable and to check if you are actually earning.
Samalamig / Palamig Business
If you want to skip the inventory, then this business can be good for you. People will always crave for something cool to drink, which is why opening your own palamig business is also recommended. It is easy to prepare and maintain too.
Pisonet Business
Living the OFW life means Internet is crucial. You need to be constantly in touch with your family whenever you can, which is why Pisonet business is in these days. All you need is a desktop, a good Internet connection, and a small space outside your home and you're good to go.
With P20,000 (or less) capital, you can encourage your family to start a pisonet business where people can drop P1.00 for four minutes of Internet connection. Once you noticed that business is booming, you can add few more units.
Cellphone Loading Business
Cellphone load is crucial in every OFW family. Despite the availability of WiFi access these days, it is easy to reach out to their loved ones through text and phone call instead of waiting for the Internet connection. The best part is unlike other goods, cellphone load doesn't expire, unless you already passed it on.
Choose which network provider you want to focus on (or you can have all to give customers more options).
Arts and Crafts
Calligraphy. Painting. Crafting. Making accessories. Thanks to social media, arts and crafts is a booming business these days because it is easier to market.
Take advantage of your family member's artistic side and make money out of it. Who knows, this could lead to something bigger.
Online Shop
This is another "easy money" business you can try with little company. Since the advent of social media, people can easily access gods and services without leaving the comfort of their homes. Grab the opportunity and put up your own online store.
What should you sell? Preferably something that is not available in the Philippines. You can start with goods sold in the country where you're working and send it back home. This will set you apart from tons of online sellers in the digital world.
It doesn't matter if the business doesn't give you millions at the end of the year. Money earned (and saved!) is still money earned, especially if you know how to use it wisely. How can you say no to that?