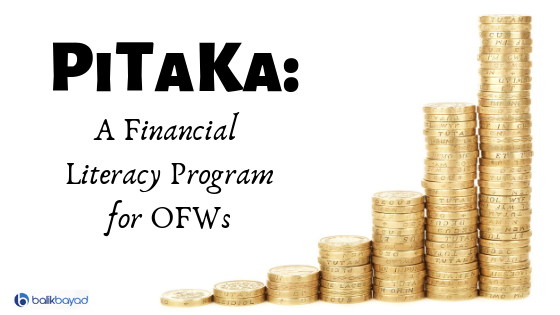 Did you know that OFW remittances is accountable for 10 percent of the country's GDP? In 2018 alone, OFW remittances were as high as USD 26 billion. This is why OFWs like you are considered as modern day heroes because of what you can do for the country and as among the huge economic driving force.
Here's the surprising part: despite earning in dollars, many OFWs are still struggling financially – and the Bangko Sentral ng Pilipinas noticed that. In fact, some still go home with little to empty pockets, thereby forcing them to look for another job abroad.
To address this issue, BSP, in partnership with BDO Foundation and Overseas Workers Welfare Administration (OWWA), launched PiTaKa, a financial literacy program for OFWs that will, hopefully, give them a happy ending – at least in the financial aspect.
What is PiTaKa?
PiTaKa, which stands for Pinansyal na Talino at Kaalaman, is a forged partnership with OWWA and BDO Foundation, which aims to improve financial literacy of OFWs as well as their families. According to BSP Governor Nestor Espenilla, Jr., the PiTaKa program "aims to change sad stories" of financial struggles into "happy endings."
For OWWA Administrator Hans Leo Cacdac, the PiTaKa program also aims to change "cultural perspectives about money" as well as "improve the financial standing Filipinos and contribute to the country's economic growth."
This program helps OFWs on financial issues such as:
Better management of remittance
Effective savings techniques
How to get out of debt
Where to invest your money
How to become a business owner
Consequently, the program will emphasize on values formation, which helps in the development of better behavior and positive attitude towards money to improve one's financial standing.
Unlike other financial programs, PiTaKa helps not just the OFW but also extends its training to OFW families. In fact, they will be taught and encourage how to spend and save wisely and the things they could do to help augment OFW's income.
What is the mode of teaching?
Videos will be used as tools, which will be shown during financial literacy lessons. Since the program is intended for OFWs, PiTaKa will be part of the mandatory Pre-Departure Orientation Seminar (PDOS) and Post-Arrival Orientation Seminar (PAOS). The videos will also be used and shown during the General Orientation for OFW families.
PDOS/PAOS and OWWA training providers will also undercover necessary training to ensure that financial literacy will be taught effectively and efficiently to all OFWs.
Why include financial literacy in the list of programs for OFWs?
The purpose is clear: to properly educate OFWs and their families on how to be regular savers and investors as well as how to handle money wisely and effectively. This way, every OFW will be able to enjoy financial freedom as well the fruits of their labor.
More so, not all understood terms like bonds, investment, or dividends mean. Through PiTaKa, OFWs and their families will have a better understanding of the concepts and be better equipped with knowledge they need to help them improve their financial condition without a family member going away.
When you attend PDOS, make sure you pay attention to this as well. Take notes and don't hesitate to ask questions in case something is unclear to you. The more financially knowledgeable you are, the better it will be for you in making financial decisions.