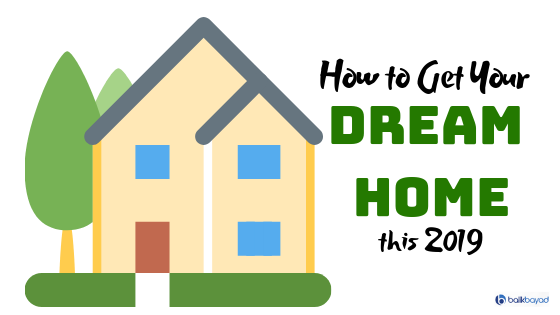 One of the many things OFWs save up for is their dream home. After all, who wouldn't want to have a house they can call their own, right? Plus, shelter is a basic human need and your family deserves it.
Apparently, buying a house is not the same as buying a shirt. For starters, house is more expensive and will entail you to spend at least a million. Second, buying a house means you need to take a lot of adjustments to accommodate this additional expense. Third, don't even get started with maintenance and real estate taxes.
More than that, at least you have a place you can call your own, no matter what happens. If you intend to make that dream happen this 2019, then you can and you will.
Here are tips to help you buy that dream home this year:
Tip No. 1: Determine the logistics for your new home.
This is the first thing you need to do. Sure, it is the people who makes a house a home, but what kind of house do you plan to buy?
At this point, you need to narrow your choices as to whether you'll get a house and lot, condominium unit, or a land where you can build your house. Is previously-owned house okay for you as well? Do you want to live in a gated subdivision or non-guarded locations will do?
Consequently, you need to establish the location of your dream home. The price of houses in Metro Manila is expensive compared to settling in nearby provinces. Scout for locations that are near schools or hospitals for added accessibility. Ask around whether the location you are eyeing for is prone to flood or within the fault line, which are important factors to consider.
Also, outline your plans on how you can save and earn more so you could buy your dream home by the end of the year. This way, you can make necessary adjustments and avoid falling short off cash.
Tip No. 2: Create a budget.
This is a must. You may find the perfect location and the perfect size for your dream home but can you afford it?
This is why it is important to create a budget. This should outline how much are your expenses as well as the money you earn every month. The expenses column is crucial, so look into it closely and see which ones you could forego, say weekly shopping for your family or eating out every Friday night. This way, you could make room for expenses like amortization, especially if you plan to borrow money.
Keep in mind that good saving and wise spending habits are important in making your dreams happen. Set up a budget now and make sure you stick to it.
Tip No. 3: Make those tiny sacrifices.
It's okay if you won't be able to send money every three days or a balikbayan box every other month. That doesn't mean you love your family less.
It's okay if you just cook meals at home or refuse to go out with friends every Friday night. You simply know your priorities and that's what matters.
The point is everyone in the family must do something and contribute to help maximize savings. A little sacrifice goes a long way, which means you might be able to buy that dream home by the end of the year.
Tip No. 4: Look for additional sources of income.
Your job overseas may be paying you well but don't just rely on that, especially now that you're planning to buy a house. At this point, you need to look for additional sources of income to help you fill the Dream House fund.
Your family back home should take responsibility as well. There are tons of businesses they could try without shelling out too much money. This way, raising money for your dream house won't just be on your shoulders.
Tip No. 5: Try financing.
Despite the changes in your lifestyle and cooperation of your family back home, the fund doesn't seem enough.
This is where financing comes in. Banks offer Housing Loan with priority given to Overseas Filipino Workers. Government agencies like SSS and PAG-IBIG also offer housing programs, who have lower interest rates.
The point is explore your financing options, compare rates and other features of the housing loan program, and ask for recommendation before you say yes to one.
Are you ready to get that dream home? Yes you are – and you will.