One of the programs and services provided by the Overseas Workers Welfare Association or OWWA is the Reintegration Program. This program aims to help returning overseas Filipino workers and their families through livelihood opportunities and other income-generating means.
Hence, the birth of OFW Reintegration Program.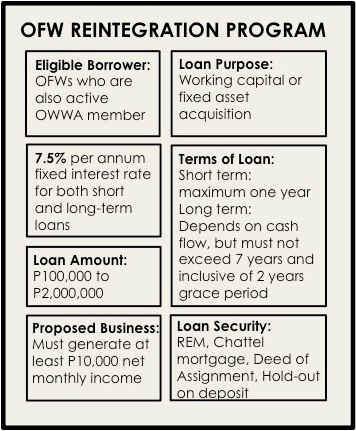 Understanding the OFW Reintegration Program
Also known as OWWA Loan or OFW Loan in the Philippines, this program is a loan facility and an enterprise development intervention of OWWA in partnership with Land Bank of the Philippines and Development Bank of the Philippines. It aims to support enterprise development among migrant workers and their families as an alternative to overseas employment.
Loan Features:
Only OFWs who are active members and are certified by OWWA can apply for the OFW Reintegration Program. Eligible borrower can either be individual (single proprietorship) or by group (partnership, cooperative, or corporation).
Purpose of the loan must be for working capital or fixed asset acquisition.
Loanable amount is between P100,000 to P2,000,000
Short term loan is for maximum of one year, while long term loan depends on the cashflow, but most not exceed seven years and inclusive of two years grace period.
7.5% interest rate per annum
Proposed business must generate at least P10,000 net monthly income. It could be a franchising business, transport service, trading or service business, construction or rental, agri and non-agri production or manufacturing, or contract tie-up with Top 1000 corporations.
Loan security is required such as real estate mortgage, chattel on equipment or machinery, Deed of Assignment on inventory or receivables, or hold-out on deposit
Below are the requirements for OFW Loan  you need to submit in case you want to avail of this facility:
OWWA certification as proof that you are a bona fide member
Certificate of Completion of Enterprise Development Training (EDT). Read more about it here.
Bio-data of the applicant
Business-related documents and permits such as business plan, Certificate of Registration with DTI, and Mayor's Permit
If applicable, at least three years Income Tax Return, BIR-filed Financial Statements, and latest Interim Financial Statements
Statement of Assets and Liabilities
How to Apply for OFW Loan:
1. Visit the OWWA Office near you to undergo the required training. You will be asked to undergo trainings in relation to this loan facility.
2. Secure the EDT certification then submit the other requirements to Landbank for evaluation and processing.
3. Wait for at least 45 days upon submission of complete loan requirements to know the status of your loan application.
It is important that you submit complete requirements to avoid any delay and for faster processing of loan application.