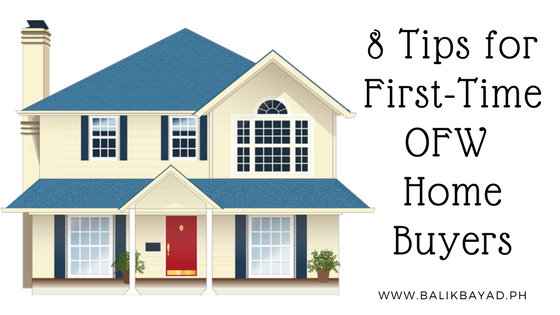 What is your reason for working overseas? The number one reason would be to provide a better life and future for the family. More than that, you want a secured future, savings account that could save you through the rainy days, and a place you own and can call home. After all, having your own home is a sign of success and makes you a living a proof that anything is possible with "sipag at tiyaga."
Here's the challenge: finding not just the right but also the best home for you and your family. You want a home that is not only money's worth but also a place you can settle down and feel secure.
In case you're in the lookout, here are some tips you need to remember:
1. Self-assessment is the first step. 
You can't just buy a house just because you saved up for it already. In buying a house, you need to ask yourself the following questions first to test your readiness:
Am I ready to buy a new home?
What is my budget?
Do I have enough savings or funds to pay for the property?
Can I afford it or it is best to avail of home loan options?  
Where is the best place to settle down?
Answering these questions could help you determine whether buying a home is ideal for you.
2. Identify the purpose of your new home. 
"Why do you want to buy a new house?"
This is the question you need a solid answer to in order to determine if buying a house is a wise investment. Is it for the family? Or do you simply want additional income by renting out the property?
Identifying the purpose of your home is essential since this will guide you in choosing the property. Consider essential factors like location, the type of property, features of the home, and price of the house. The surrounding establishments must also be considered, preferably a home near hospital, mall, or schools if you plan to live in that house on a long-term basis. These factors should guide you in choosing a home according to your purpose.
You will be seeing lots of brochures and ads about properties. Take time to browse through them as you scout for your perfect family home. Areas in Cavite and Laguna might be your first choice because of the booming property market, but consider areas in the North like Marilao, Bulacan or Pampanga.
3. Choose a reliable and trustworthy property developer and real estate broker. 
This is a must. There are tons of "rising developers" these days who take advantage of the boom in property development but are unable to meet safety standards. This puts not just your money at risk but also the safety of your family.
Therefore, choose a developer with experience in home building. Take advantage of the Internet and check out the developers' websites during your spare time. Look into each developer's background, previous projects, and awards, if any.
Consequently, your real estate broker should be a reliable one. Getting a broker is not required, although this is advisable if you are a first-time homebuyer and you need help in the ins and outs of home-buying. Find someone who is recommended by your friends or family for better reliability. The real estate broker must also be licensed and accredited by your chosen home developer. This way, you are assured that s/he can help you in the process.
4. Assign someone who will represent you during the home-buying process.
This is another important step. Being an OFW means you won't be in the Philippines most of the time; hence unable to process everything personally.
To make sure everything goes smoothly, assign a representative or Attorney-in-Fact (AIF) who will process on your behalf as evidenced by a Special Power of Attorney or SPA. Since this is a major financial decision, it is best to choose someone you can trust, preferably your spouse or a sibling you can trust. S/he must also be responsible and organized since s/he will be signing documents and keeping receipts and documents of the transaction on your behalf.
In case you weren't able to execute SPA while you're still in the Philippines, make sure to have the SPA consularized in the Philippine Embassy in the country where you're working to make it valid and binding.
READ: What you need to know about Special Power of Attorney
5. Visit the site. 
… and make sure to take lots of pictures along the way.
Do not skip this step. You need to know where you're "possibly" settling for good, which is why site visit is important since the brochure is different from the actual site. A site visit or ocular will give you a feel of what the neighborhood will feel like. It is best if you can do this while you're in the Philippines, but your AIF can do it for you. If you can, your family should come too.
6. Establish the payment of the property. 
Your budget plays a crucial role in choosing the property. In fact, it cold make or break everything because even if a particular home met your requirements, you won't be able to afford it.
Ideally, you should pay for the home in cash and in full so you don't have to worry about anything anymore. Apparently, this requires a lot of dedication, discipline, and skipped shopping, but possible. On the other hand, you can always turn to banks and other lenders to make the purchase of your home possible.
READ: Home Loan Options for OFWs
7. Reserve the property. 
You finally found the perfect home at the perfect location that fits your budget. Congratulations. To make sure this dream home is possible, reserve the property as soon as you can.
Some developers require a pre-qualifying interview to explain the process and payment terms among others. Once you agreed, you will be asked to sign a Reservation Agreement so you can pay the Reservation Fee. This assures you that the property you chose is reserved for you whatever happens.
Take note that the Reservation Fee is non-refundable, which means you can't get it back in case you decide not to get it. Nonetheless, the amount will be deducted on your downpayment or total purchase price in case you continued with the purchase.
8. Provide the documentary requirements.
There's no turning back. At this point, you will be required to submit several documents to process the purchase of your new home. Consequently, these documents will also be forwarded to the bank in case you availed of financing.
Some of the documents include:
Government-issued IDs with signature
Birth or Marriage Certificate
Overseas Employment Contract
TIN or Tax Identification Number
Certificate of Employment, preferably original
Payslip
Passport with corresponding visa or Seaman's Book, whichever is applicable
Proof of Billing
Original Special Power of Attorney
It is best to provide these documents before you go back overseas. Otherwise, developers and/or lenders require these documents to be consularized, which means these must be authenticated by the Philippine Embassy or Consulate of the country you are working in. Consularized documents come with a seal and red ribbon over it.