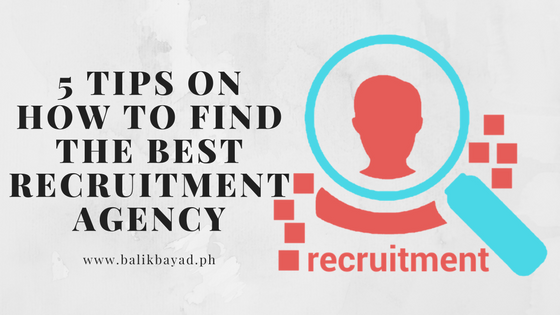 Are you planning to work overseas? Before you dream of seeking greener pastures, the first thing you need to look for is a recruitment agency that will make your dreams come true.
By definition, a recruitment agency is a company that engages in finding suitable and qualified workers for other companies or organizations, both in the Philippines or overseas.
Recruitment agencies are everywhere. Because of the increasing demand for jobs and the money that comes with it, some people are taking advantage of the trend and promise to offer people jobs, only to realize that there are no jobs waiting for them. Worse, you paid for corresponding fees and can't get your money back.
To avoid this from happening, here are some tips to remember when choosing a recruitment agency:
Tip No. 1: Always check the legitimacy of a recruitment agency. 
This is the first thing you need to check before submitting an application form. While the job offer looks tempting, you'll never know if it comes from a legitimate agency; hence checking their status is a must.
Don't rely on the POEA license number posted in their offices. You can check them out in the POEA website to make sure that you apply in a legitimate recruitment agency.
NOTE: Internet-based recruitment agencies are a big NO-NO and are currently tracked by POEA. Do not apply with them.
Tip No. 2: Do a background check of the agency. 
The good news is the recruitment agency is licensed and legitimate. Does this mean they are good? Not exactly.
You need to do a background check on the recruitment agency as well. Find out about the agency's history, officers, number of workers deployed, and other types of services they offer to help OFWs. If the agency has awards or recognitions, then much better because it only shows the kind of service they offer. If possible, ask about the experiences from previous workers. This way, you will have an idea of what your experience would be like when you apply.
Since you're already in the process of applying, pay attention to how the agency employees treat their clients. Make sure they are respectful enough in dealing with people since they will do the same with you.
Tip No. 3: Stop when payment is asked. 
Eventually, you will have to pay a placement fee and other documentation costs, which is often deducted on your first monthly salary. If a recruitment agency, no matter how legitimate they are, asked for payment of placement fee upfront, then you need to withdraw your application.
Take note that you are only required to pay upon signing of employment contract, which must be evidenced by official receipts as proof that payment was made. Before that, you should not pay the agency a single centavo.
READ: Prohibited Acts When Applying for a Job Overseas
Tip No. 4: Pay attention to the documentation. 
Let's say they didn't ask for payment of placement fee upfront. Then that's good news. Still, don't celebrate yet. There are recruitment agencies who ask workers to sign dubious documents or documents that are difficult to understand, which is also not a good sign.
Therefore, pay attention to the application form, which should only contain questions relevant to your personal information and work experience. If employed, you should be offered working visa and NOT tourist visa since the intention is to work overseas. Aside from punishment fees, there is always a higher risk of deportation – and you don't want that to happen.
Tip No. 5: Ask recommendations. 
Your friends and family who worked overseas can always provide you with the best information based on their personal experience. If none in the family or your circle of friends have tried working overseas, you can always rely on OFW forums or groups for information about the best recruitment agencies and their personal experiences.
Choosing the right recruitment agency is just the beginning. Make this right and hopefully, everything else will run smoothly.