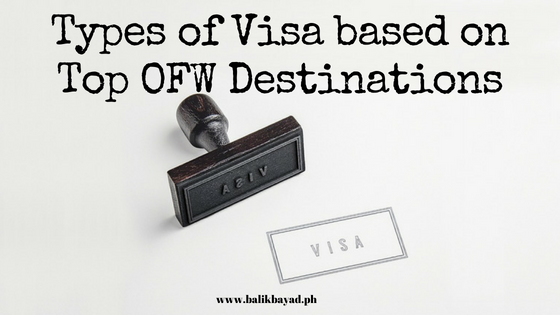 How can you tell if a recruitment agency is legitimate or not? There are many factors to consider and one of them is the type of visa they issue. If you were given a tourist visa, then you're in trouble. Legitimate recruitment agencies provide a working visa, depending on the needs of the country of destination.
We listed the types of visa required on top OFW destinations:
Saudi Arabia
Work visa – This is the type of visa required when you will work in Saudi Arabia for more than 180 days. Some of the documents you need to submit are employment contract, medical certificate, and attestation certificate of qualifications.
Working Visitor Visa – If you will stay in KSA for less than 180 days, then this type of visa is applicable for you. This is usually given to airline pilots and oil industry workers, and granted upon invitation from the Ministry of Foreign Affairs.
Hong Kong
Work Visa – This type of visa will be processed by future employers. Application process is four to six weeks and the duration of the work visa is the same as your employment contract. In case you were fired by your employer and you landed another job, then you should apply for a new employment visa under the current employer.
Domestic Help Visa – This type of visa is granted to OFWs who will conduct domestic work. It is valid for two years and the household worker must stay in employer's home during that duration.
Singapore 
Employment Pass Scheme (EP) – This is the basic work permit issued to skilled workers who plan to work in Singapore. EP will be issued to those who have above SGD 3,000 monthly salary, a degree holder from a reputable university, and has relevant work experience. EP is valid for maximum of two years and may be renewed thereafter, provided that you will stay with the same employer.
Personalized Employment Pass Scheme (PEP) – This special work permit is for those who are not tied to a single employer. This means you can switch jobs as long as the work gap period does not exceed six months. PEP is valid for three years and non-renewable, but may be allowed to apply for permanent residency.
S Pass Scheme – This type of visa is for mid-skilled employees with monthly salary of SGD 2,200 and above. Although a college degree is not required, holders of this type of visa must have a technical diploma. This is valid for one to two years and may be renewed as long as the applicant stays with the same employer. You may apply for permanent residency after as long as you prove that you have a stable job.
Miscellaneous Work Pass Scheme – This type of working visa is given to foreigners with short-term job assignment in Singapore like attending or conducting a seminar, conference, or workshop.
United Kingdom 
Tier 2 (General) – This type of visa will be granted to those who were offered skilled work and has a licensed sponsor (with accompanying Certificate of Sponsorship). This is valid for up to three years.
Tier 5 – This type of working visa will be given if you will conduct charity work, will be assigned in UK office, creative or sporting jobs, and other temporary work.
Kuwait 
Visa 17 (Public Sector Employees) or Visa 18 (Private Sector Employees)  – This is the iqama granted to OFWs. Once you accepted an employment offer, your Kuwaiti employer / sponsor will apply for your work permit at the Ministry of Social Affairs & Labor. Thereafter, you will be required to submit other documentation requirements before you can go to Kuwait.
Visa 20 – This type of visa is for domestic helpers. The resident will sponsor for this type of visa.
United States of America
H-1B (Specialty Occupation) – This is for those who have professional job offer. You must also have a bachelor's degree in the job specialization you applied for.
H-2A (Seasonal Agricultural Workers) – An American employer sponsors a worker for a temporary job in the agricultural industry, especially when there are no more US workers available.
H-2B (Skilled and Non-Skilled Workers) – This type of working visa will be given to workers for temporary or seasonal job in US.
H-3 (Trainee) – If you will be trained by your employer in the US, then this type of visa will be given to you. H-3 visa is only valid for up to two years.