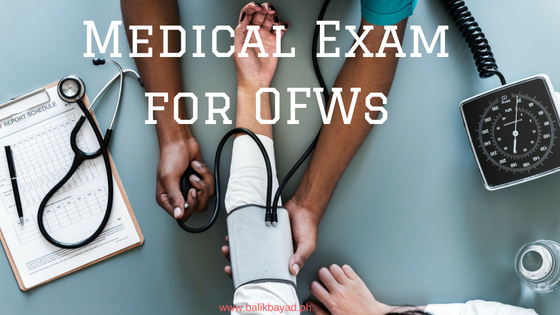 Whether you plan to work here or overseas, medical exam will always be part of the requirements you need to accomplish before you can start work. In fact, medical exam is stricter for overseas workers because you need to ensure that you are physically fit to work. The difference in weather conditions could affect you and your employer needs to ensure that you can endure that. After all, you're under contract, right?
That being said, here are things you need to know about medical examination for OFWs:
When to take a medical exam?
Apparently, it's not as soon as possible. You can schedule for a medical exam either after receiving your job offer overseas or after signing the overseas employment contract. Ask your employer about this first since they might require certain clinics, especially if you are headed to any countries in the Middle East.
How much? 
This usually depends on the medical clinic. Nonetheless, it is best to prepare at least P1,500.00 to cover for all procedures like urine and fecal test, and drug test among others. Once completed, you will be given a medical exam certificate, which is valid for three months.
The medical exam fee will be shouldered by you. In case you were issued a medical certificate and it's about to expire but you still can't leave the country, you will be required to take another medical exam, but this time, it will be shouldered by the agency.
What happens during medical examination? 
Don't worry. Medical exam for aspiring OFWs is similar to how medical examination is conducted for new employees. You will be asked to take laboratory exam like blood, urine, and fecal tests. Your vision, hearing, and oral health will likewise be checked.
Thereafter, physical examination will be conducted. This is to check the status of your physical health and the existence of medical conditions such as cardiovascular disease, chronic renal failure, hypertension, and diabetes. You will also be asked to undergo psychological testing to make sure that you can cope and adapt with the new environment. Psychiatric diseases and neurological disorders are likewise prohibited from working overseas.
Medical exam varies per country. 
Every country that welcomes foreign workers has corresponding specifications and requirements in conducting medical examination.
For instance, if you are bound to Middle East countries specifically Saudi Arabia, United Arab Emirates, Qatar, Bahrain, Kuwait, and Oman, you should comply with the requirements set by Gulf Cooperation Council (GCC) – Accredited Medical Clinics Association or GAMCA. This way, the specified countries are assured that no foreign workers with sexually transmitted disease, tuberculosis, and pulmonary scar can enter their respective countries.
What is the essence of medical exam? 
The answer is simple: to ensure that you are fit to work. If the medical certificate reflects that you are physically fit to work abroad, then you can proceed to the next steps so you can leave on time and start your work overseas. Otherwise, your job offer will be cancelled (or delayed, depending on the findings of the medical clinic) if the medical exam revealed that you are suffering from a specific condition.
What does this mean then? Take care of your health, regardless if you are planning to work overseas or not. Health is wealth and don't waste your hard-earned money by spending it on hospital bills and maintenance medications.