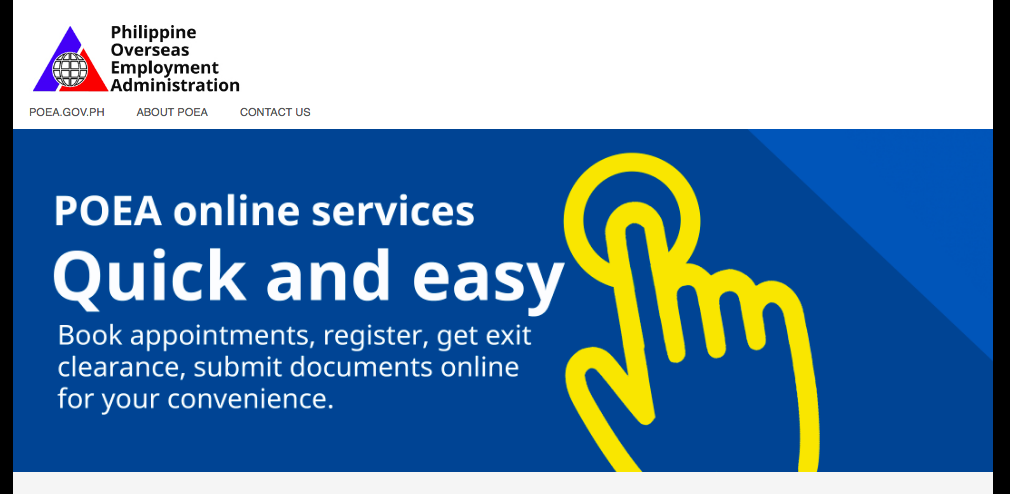 Let's face the truth: applying for a job overseas is not easy. Then, there are also tons of documents you need to comply with to make sure that you are properly documented and be able to enjoy the status of OFW.
Thankfully, the government, particularly the POEA, is taking steps to improve and promote efficiency in their services.
Did you know that POEA now has online services facility? This means booking appointments, registering, getting clearances, and requesting for documents among others can be done online. This also means you don't have to line up and wait for hours waiting for a single document to be released, thereby making everything more convenient.
Here are the services you can avail of through POEA's online facility:
This service is available in case you want to request for OFW Information Sheet or Record. Instead of going early to the POEA Office to get a number, you can simply log-in to their OFW Records System and schedule an appointment.
When scheduling for an appointment, make sure you have a previous Appointment Reference Number (ARN) to log-in. If you don't have ARN yet, you may register and set an appointment through this link.
Manpower Registry (e-Registration)
Aside from licensed recruitment agencies, POEA, from time to time, releases job openings for Filipinos aspiring to work overseas. You can set up your profile through POEA's e-Registration facility. The said facility also allows OFWs to get access to online services such as applying for OEC and paying processing fees.
Take note that this service is also particularly important for direct hires. This is also necessary for all seafarers.
In case you don't have an account yet, you may register through this link.
Balik Manggagawa Online Processing System
One of the most important requirements you need to secure as an OFW is the Overseas Employment Certificate or OEC. This will serve as proof that you are a properly documented OFW and exempted from travel taxes and airport fees among others.
You can set up an appointment through this link.
Online Pre-Employment Orientation Seminar
This is another important requirement you need to comply with as OFW. The Pre-Employment Orientation Seminar or PEOS is a service of POEA that provides you with necessary information you need to know about overseas application, the fees involves, and safeguards against illegal recruitment among others.
Don't worry because this service is free. You simply need to log-in and make an account, take the learning modules, and print your PEOS certificate. Take note that the PEOS Certificate is an important requirement when applying for a job overseas, so make sure you take this seriously.
Verification of Status of Recruitment Agencies
This is important. Illegal recruitment is something the government is seriously working on to avoid compromising the lives of Filipinos. Before you apply, make sure you check this facility because it lists the names of legitimate recruitment agencies as well as those whose licenses were suspended.
If the name of the agency you applied for is not on the list of agencies with valid license, then don't push through and look for a new one to avoid being a victim of illegal recruitment.
Verification of Agency's Job Orders
It's easy to say that a particular job is needed overseas, but how sure are you?
This is why POEA launched this online service to check that the agency has approved job order/s as submitted by licensed recruitment agencies.
SRA / LOA Online Application System
This is the Online Recruitment Authority Application System. As of this writing, there is limited information as to how this system works.
Unfortunately, not all is well for OFWs. In case you filed a case against your foreign employer due to employment issues, then this system will give you an update as to the status of your case.
As of this writing, this site is still under maintenance.
The POEA Online System is still a working progress, but it is a good step to provide thousands of OFWs a convenient access to various services. Take advantage of it.