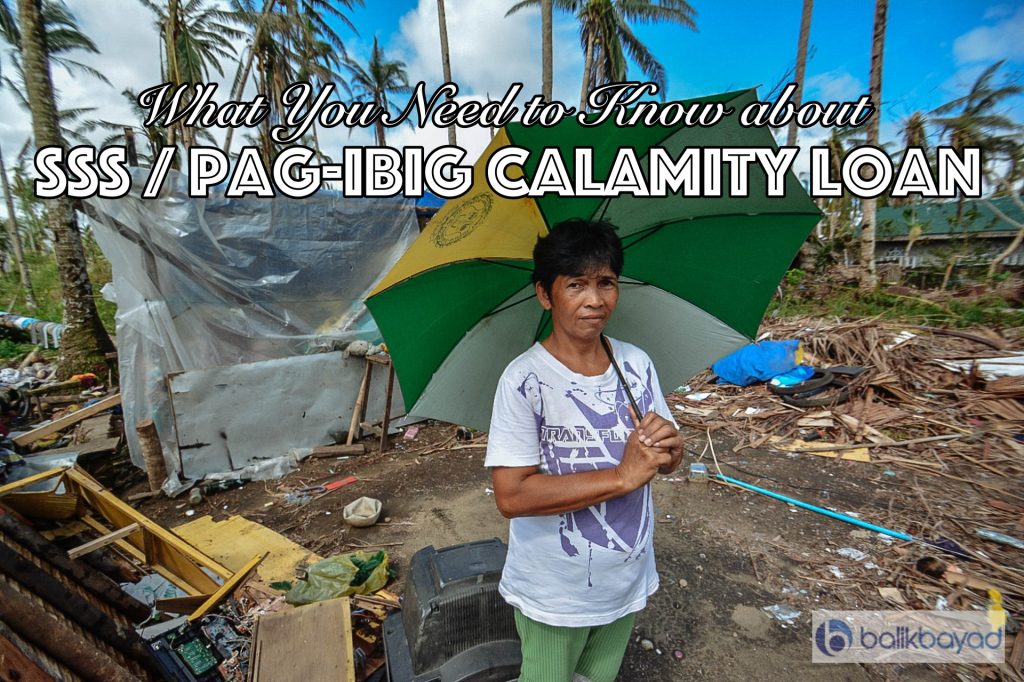 Last September 15, 2018, Northern Luzon were punished by Typhoon Ompong, the strongest typhoon to hit this year, thereby destroying houses, farmlands, public and private buildings and establishments, and even electric posts. While the typhoon lasted for only a day, it left thousands of displaced families and millions-worth of damages.
Unfortunately, Ompong is just one of the many typhoons that will visit the Philippines. While you and your family will be able to recover in time, which also means you need to work extra hard overseas, rehabilitation entails costs.
The good news is the government is willing to help through SSS or PAG-IBIG Calamity Loan. This loan facility is available to Filipinos who were affected by a calamity as declared by the National Disaster Risk Reduction and Management Council (NDRRMC) and suffered loss and damages as a result of the calamity.
Here's what you need to know between the two:
SSS Calamity Loan 
Features:
Loan Amount – One monthly salary credit (MSC) based on the average of the last 12 MSCs or total amount of damage, whichever is lower
Interest Rate – 10 percent per annum
Penalty Fee – One percent per month until fully paid
Loan Repayment – Payable within two years in 24 equal monthly installments
Waiver of one percent service fee
Must be availed within three months from the happening of the calamity
Who can apply? 
Has at least 36 months of contribution, six of which must be posted within the last 12 months prior to application of Calamity Loan
Resident of calamity-declared area and suffered losses or damages to the property
No outstanding loan with SSS (Loan Restructuring Program and  Calamity Loan Assistance Program)
Applicant must not have been granted any final benefit (retirement, death, total permanent disability) at the time of the application
How to Apply for SSS Calamity Loan (procedure is enumerated for OFWs only)
Fill out Calamity Loan Assistance application form. You can get a copy of the form here.
Personal appearance in the nearest SSS branch is required, but for OFWs, submit an Authorization Letter to certify that person transacting with SSS was authorized by you.
Submit scanned copies of IDs or documents that proves your status as OFW as well as original copies of IDs of your authorized representative.
Submit Barangay / City / NDRRMC / LDRRMC Certification that you were affected by the calamity. You can also get a copy here.
You can visit the nearest SSS branch, send email at member_relations@sss.gov.ph, or call SSS Call Center Hotline at 920-6446 to 55 for more details.
PAG-IBIG Calamity Loan
Features:
Loan Amount – Up to 80 percent of the Total Accumulated Value (TAV)
Interest Rate – 5.95 percent per annum
Repayment Period – Equal monthly installments payable for 24 months with grace period of three months. This means if you apply on January, you may start paying the loan on April or on the fourth month. Payment must be made every 15th of the month.
Who can apply?
Must made at least 24 months contribution with at least one monthly contribution in the last six months prior to the date of application. In case you haven't made at least 24 months contribution, then you must show proof that your total savings is equivalent to 24 months of contribution.
A resident of the area that was declared as calamity-stricken
In case there is an existing PAG-IBIG Housing Loan, MPL, or calamity loan, existing loan must NOT be in default
Has sufficient proof of income
How to Apply 
Submit duly-accomplished application form in any PAG-IBIG branches near you. You can get a copy of the application form here.
Submit supporting document such as Proof of Income and photocopy of two government-issued IDs
Accomplish and submit Declaration of Being Affected by Calamity. You can try using this form.
For OFWs, your family member might be required to submit a Special Power of Attorney to transact on your behalf. You can use this SPA form.
Keep in mind that these facilities can only be applied for within three months from the happening of the calamity. In case you were affected, the calamity loans could be helpful in getting your family back on their feet.