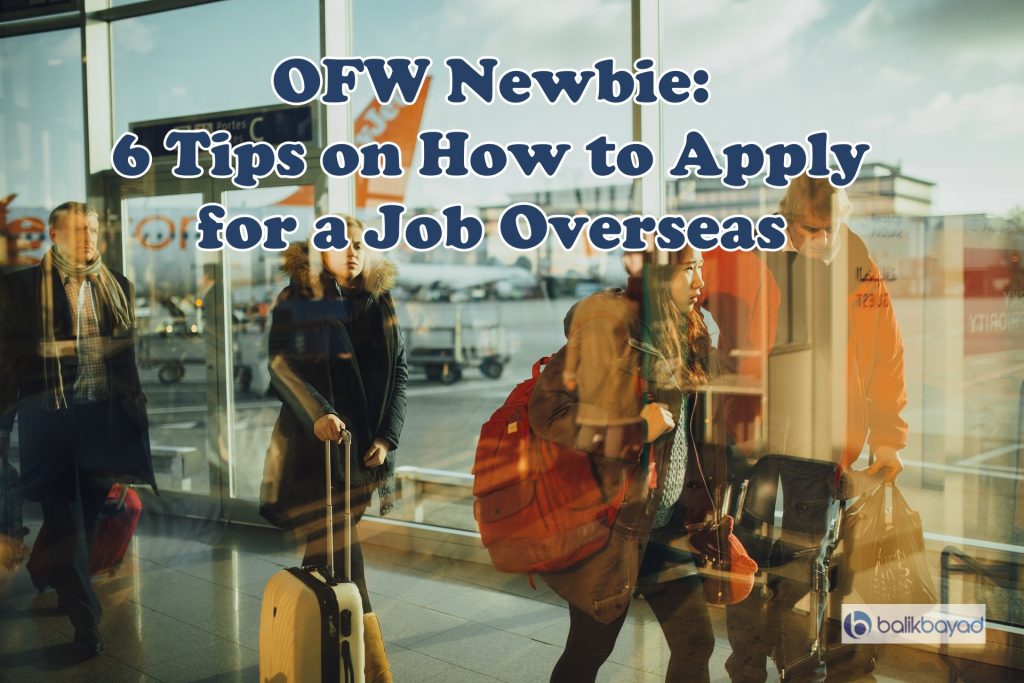 Do you plan on working overseas? You're not alone.
Every year, hundreds of thousands of Filipinos are seeking greener pastures for bigger earnings that will help secure their family's future. If you're new in this kind of world, then you need to be careful. There are a lot of fly-by-night recruitment agencies who take advantage of first-timers like you for their own gain – and you don't want to be part of their victims list.
Don't worry. In this post, we will enumerate tips and things to remember to ensure smooth sailing application for your first job abroad:
Tip No. 1: Three Words – Reputable Recruitment Agency
This is the first thing you need to remember when applying for a job overseas.
The good news is POEA is active in going after unlicensed recruitment agencies and ensuring that the same people won't operate again. There are several agencies who entice people to apply to them by placing high salary rate or compensation package, which could be tempting for ordinary Filipinos. When you pass your application form and requirements, they will ask you to pay the placement fee upfront, which is not allowed. Do not easily fall for that.
Before you apply, start by checking whether or not the agency is licensed or among those who are blacklisted in the POEA website. This way, you are sure that all of your efforts and money won't go to waste.
Tip No. 2: Apply on Jobs Approved by POEA
This is why it is important to apply to reputable recruitment agencies. Every job order is approved by POEA, which means the government is aware that such job is needed overseas.
Since you are already browsing through the POEA website, you might also want to check their latest job offerings. From time-to-time, POEA posts job vacancies for certain countries and you might want to try that.
Tip No. 3: Transact Directly with the Agency
You saw this job ad on Facebook and decided to apply. When you contacted the agency who posted the ad, you were told that you'll just meet somewhere, say Starbucks or fast food restaurant. That is a red flag.
Reputable recruitment agencies don't send out a representative to meet a prospective client somewhere outside the office. If you were told to meet somewhere, then there is a higher possibility that the job ad is a sham.
Tip No. 4: Tourist Visa is a No-No
You apply because you want to work overseas. If you were told that you will be given a "Tourist Visa first" and then they'll fix it "once you're there in the country of destination," then don't push through with your job application.
There is a higher chance that the agency is not licensed. There is also a higher possibility that Immigration won't allow you to leave the country. Even if you got past through Philippine Immigration, there is a risk that you will be deported in the country where you'll be working.
Tip No. 5: Placement Fee is Worth One Month of Your Salary
One of the expenses you need to pay for when you apply for a job overseas is the placement fee. It's how recruitment agencies make their money, so this expense is inevitable.
How much, you might ask. One month salary and should not go beyond that. Some countries like Canada don't even require you to pay placement fee, so make sure you are aware of that.
You might ask when should you pay the placement fee. You can pay only when there is a valid employment contract. There must also be a corresponding receipt that indicates the amount you paid for.
Tip No. 6: Say No to Fixers
Admit it. Sometimes, you are tempted to go to fixers to get tickets or for "faster transaction" when dealing with government agencies. Don't even think about it when you plan to work abroad.
Processing of documents does take time. This is why it is important to prepare all necessary documents needed and ensure that these are complete before submitting your documents. This could minimize waiting time too.
Applying for a job overseas is similar to looking for a job in the Philippines. The difference is that there are more documents you need to secure, which could take time. Just be patient, remember these tips, and soon, you'll be flying to a different country to help you secure your family's future.