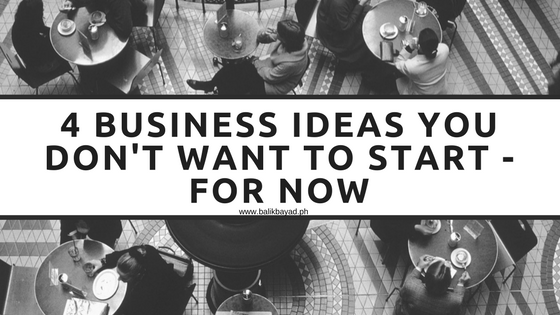 While there is no guarantee, one of the things that could help you increase your savings and attain financial freedom is by starting your own business. Even if you are working abroad, putting up your own business can give you additional income, which leads to more buying power and higher savings (if you used money right).
Let me tell you something: not all business ideas will guarantee success, no matter how passionate you are about it. In fact, there are small businesses that were once great but no longer advisable at this point in time. Before you submit that "Apply Now" for you loan application, check out these business ideas you might want to skip:
1) Computer Shop
Once upon a time, computer shops are everywhere. Even if your family doesn't own a laptop, they can go to a computer shop, log in to Skype or Yahoo! Messenger and they can already talk to you even if you are miles away. Sadly, the rise of smartphones and Facebook, coupled with more affordable laptop prices made it easily accessible for your family to reach you – at no cost.
If you believe this business can be profitable, then make sure you don't invest in too many computer units. Introduce other services as well such as computer and mobile repair or sell computer-related items.
2) Travel Agency
Did you know that there was a drop of retail travel agencies since the Internet started to boom? That's not all. Many travelers these days are budget-conscious; hence the rise of online travel booking websites. Travelers now have access to hotels, airfare, and transportation among others – without paying for agency fee.
Why not offer your services for that specific area? Be their travel guide or start your own blog showcasing the country where you are working.
3) Fashion / Retail
Everyone needs clothes and shoes. With countless of people selling clothes online and even outside the World Wide Web, the competition might make it harder for you to survive in this business. Worse, big brands are using various tactics that will make it difficult for small retailers to withstand.
Still, this doesn't mean you cannot capitalize on the fashion market. The key here is to offer something that other sellers cannot compete with. For instance, you can get clothing items available in the country where you're working and sell it in the Philippines where the items or brands are not visible. Make sure you start with few items to help you test the market. If you have enough funds and the response is good, try exclusive distributorship of the brand.
4) Restaurant / Food Business 
Similar to clothes, everyone needs to food to eat. Just like clothes, opening a restaurant or getting in the food business in general can be challenging – and risky.
As of this writing, food parks are in and becoming popular, thereby giving small and starting entrepreneurs a chance to introduce their food business. The question is how long? You may opt to put up your own restaurant, but this can be risky.
If you insist on having your own food business, consider various factors such as the location, rent of the place, foot traffic, and more importantly the food. You might want to start small first like a sandwich shop or carinderia with food delivery in offices. You might even pick up a dish where you're working and tweak it to give a Filipino taste. The key here is to give something new to the people's palate and who knows, it could be your road to success.
How will you find the right business for you? Don't look at the trends alone and consider business ideas that will stand and survive the test of time. This way, you are sure to survive.