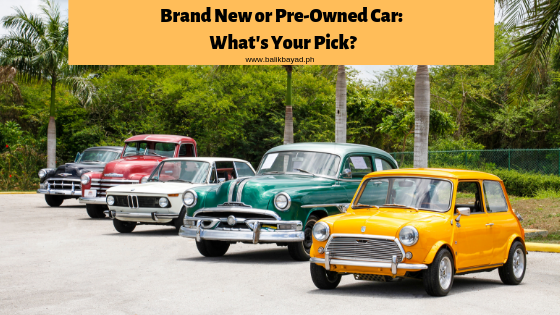 Last 2018, the government imposed a higher tax on automobiles upon the passage of TRAIN Law. This means if you plan to buy a brand-new 1.3 Toyota Vios, there is an increase for another two percent excise tax; thus making your purchase more expensive.
Luxury and hybrid cars are generally cheaper, but for ordinary citizens, will you drive a Toyota Land Cruiser that is worth at least P4 million?
In other words, buying a car today is more expensive than purchasing it two years ago.
Apparently, having your own car is one of the things you want to buy as product of your hard work overseas. With the increase in car prices, is it better to go for previously-owned or stick to brand-new – and worry about payment later?
Yes to Brand-New Car
Generally, it is more expensive.
Are you willing to shell out at least P700,000 for a brand-new car? It may not seem a lot for some but for many Filipinos, this is a big amount.
Brand-new cars are generally more expensive compared to going for previously-owned vehicles. Good thing lenders relaxed their requirements and make it easier for potential car owners like you to have their own car.
You need a car – fast.
Brand-new cars have readily available units. All you need to do is to visit the showroom, talk to a sales representative, complete the documents and cash. and you can get your car right away.
If you plan on getting a car loan, then don't worry as well. Car loans or in-house financing are now faster in approving – or rejecting – auto loans. In fact, some could give you an answer within the day and update you about the status of your application.
Take note that once you made up your mind, there is no turning back. Otherwise, you will be forfeiting the P5,000 reservation fee you paid.
There's no need to worry about repairs and maintenance.
This is the beauty of buying a brand-new car. The presumption is you are getting a car in good running condition since it is new.
That being said, you don't have to worry about repairs and maintenance since you are the first owner. You can use it without worrying about breaking down anytime soon and you save yourself a trip to the mechanic to have your car checked.
You don't have to worry about resale value.
Ideally, cars will stay with you for as long as possible. If you're looking for a car that will last you and your family a lifetime, then brand-new car is your best bet.
Take note that cars depreciate over time. If what you're after is reliability and a car that will bring you from point A to B for as long as possible, then buy a brand-new car instead. 
Don't forget to ask for freebies.
One of the perks of buying a brand new vehicle is the freebies car companies could give you. Some offer free car tint, mats, or a discount on your insurance policy. Make sure you ask your sales rep regarding this to add more value to your money.
Go for Second-Hand Car
Getting a car loan may not be easy.
Some lenders allow car financing but they are specific in year models. If the car is more than five years old, then applying for an auto loan could be challenging.
This means if you plan to get a pre-owned car, you need to prepare your pocket as well. Or, you could also ask the seller if in-house financing is applicable, although we caution you on this one.
You don't mind if the car is not the latest model.
If your main concern is to bring you to a designated place and back to your home, then getting a second-hand car is not a bad choice at all. Just make sure you maintain the car properly so it won't give you a headache even if it's an old vehicle. 
Add cost of repairs and maintenance in your budget.
This is something you should seriously consider. Yes, you did not spend millions on a car but you need to spend few more thousands to ensure that the car is up and running.
Buying a pre-owned car means you might be required to replace car parts, which includes but not limited to:
Car tires plus spare tire
Battery
Brake pad
Shocks
You also need to check that all the car locks and windows are working for safety. You may get a car insurance for your car and the good news is the premium is generally cheaper compared to insuring brand-new vehicles.
Whether or not you buy a brand-new or pre-owned vehicle, the choice is yours. What matters most is that it is within your budget and the car is exactly what your family needs.