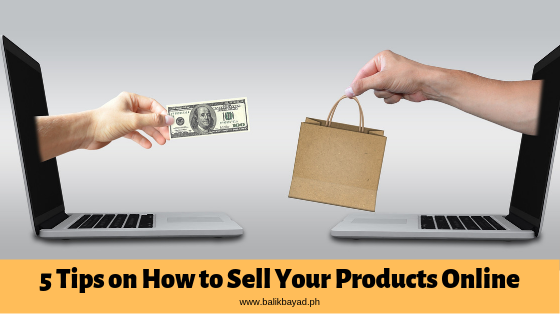 Who doesn't want additional income? This is why it's not surprising if you decide to take on that third side job or that "raket" offered by a fellow OFW. After all, every peso counts.
Still, you want something more sustainable. This is why you decided to put up your own business for additional income. One of the easiest businesses you could do is buy-and-sell of items. You buy items from the country where you're working and sell these in the Philippines.
What is the most convenient way to sell your products? Online.
Here are tips on how you could effectively sell your products in the World Wide Web:
Tip No. 1: Choose ONE selling platform.
There are tons of options available that you could use to sell your items online. You can sell it on selling sites like OLX, Lazada, or Ebay.ph.
Facebook Marketplace and Instagram are also good options when it comes to selling platforms. Filipinos are often glued on their phones and check social media regularly, which means there is a higher possibility that your products will be seen.
You can also try shopping apps such as Shopee or Carousel since these apps are slowly getting tons of followers.
Still, don't get overwhelmed. If you plan to sell online, then you need to focus on one selling platform first. If you choose Facebook, then sell on Facebook first and explore other options later on. This way, you can easily manage your online store and conveniently check messages for inquiries. Updating your inventory is also easier because you are only focused on just one platform.
Therefore, choose a platform that is easier for you to navigate. Focus on that first and once you've established your followers, move on to the next.
Tip No. 2: Take good pictures.
This is a must. If you want to seal the deal, then you need to make sure that you captivate your customer with just one look. One of the best ways to do this is by taking good pictures.
A good camera helps, but getting the perfect lighting is the key in making your pictures stand out. Take different angles so potential sellers will see and appreciate more the products that you are selling.
Tip No. 3: Don't skimp on your product description.
A picture is worth thousand words but this doesn't mean you'll rely on it all the time. When you post your item, make sure you describe it as clearly as possible.
Include but not limited to:
Price, which is preferably a reasonable one
Color
Size / Weight
Features of the product
Material
Condition of the item
Describing your product as thoroughly as possible reduces chatting that may not lead to sales. Once the customer sees what you are offering with all relevant information written there, she has to decide whether or not to grab the deal by contacting you.
Tip No. 4: Gimmicks help.
It's not enough that you sell an item from abroad. You need to offer something to Filipinos to entice them to buy what you posted online.
Therefore, be creative. Think of "gimmicks" so that people will know you. If you just started, an introductory price good for x number of days is a good way to start. Offer discount or freebies for first 10 customers. Free shipping is another option, which many people will take advantage of.
Buy 1, Take 1 deal is also enticing for potential customers so if you could accommodate that, then good.
The point is be creative. You want people to get to know you and buy your product, so take this seriously.
Tip No. 5: Make it a habit to check the product.
This is another must. The last thing you need is customers contacting you and complaining about damaged items. This could ruin your reputation, which is something you need to avoid.
Before shipping the product, check it first. Reputation is everything when it comes to the world of online selling.