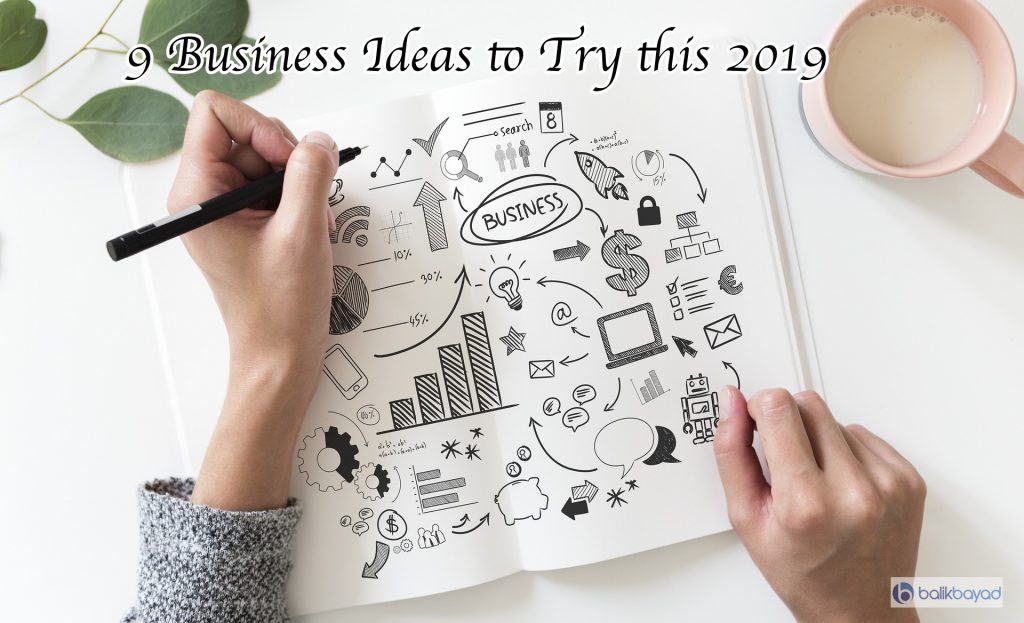 Brand new year means brand new opportunities. At this point, you know that OFW life is not forever and applying for a new job overseas may take time. This is why you vowed to do something to ensure continuity of funds in the family.
How will you do that? You consider opening a new business.
The truth is there are tons of opportunities available to help you jumpstart your entrepreneurial career. If you're unsure as to what type of business you should start, then let this list help you.
Here are business ideas you can try this 2019:
1. Online Business – The online market is flourishing. Many Filipinos spend a lot of time glued on their mobile phones and, yes, shopping or at least browsing for items. Take advantage of that by putting up an online store. You could sell anything you like but to set you apart from the rest, offer the people something that is not readily available in the market. It could be one-of-a-kind products from the country where you're working or a product that you make.
2. Cleaning Services – Most households are unable or have difficulty finding a reliable house help. If you worked in a hotel or as a household service worker overseas, then put those skills to use and start your own general cleaning services company. All you need are cleaning tools and equipment and eye for perfection, and you're good to go. Just make sure you get equally reliable and trustworthy cleaning ladies because reputation is key in this type of business.
3. Food Delivery – Does anyone in the family love to cook? If yes, then try offering those to die for meals to people. Instead of renting a space or putting up your own restaurant, try food delivery services first. You can start cooking at your own kitchen first and commission a third-party to deliver the food to your customers. Keep in mind that the appearance of your food matters a lot, so take good, enticing pictures. Who knows, this could be a start of something bigger, say your own restaurant in the future?
4. Food Cart – If cooking is not your family's thing but you still would love to get into the food business, then consider franchising a food cart. The good thing about food carts is that there is already an existing business model that you can adapt. Plus, the franchised food cart already made a name in the market, thereby making marketing easier for you. You can check this post for affordable food carts you can franchise.
5. Laundry Service – Apart from general cleaning, laundry is something Filipinos are willing to pay for. You can open your own laundromat and give people some convenience. Self-service laundry centers are also in demand these days, so you might want to invest your hard-earned money on that.
6. Gift Boxes – This type of business is in demand these days. Take advantage of that by putting up your own subscription service. Every month, subscribers will receive specially designed gift boxes that contains items based on a particular monthly theme. You can have monthly themes like "Toys and Games," "Goodies from Overseas," or "For the Coffee Lovers." Items can be easily sourced so this won't be a big issue for you.
7. Party Supplies – The party industry is booming these days. People are willing to spend money to make their parties Instagram-worthy. You can take advantage of that by putting up your party supplies store. The good thing about this business is that items are available on wholesale, which means you can get items at cheaper prices.
8. Tutorial Services – Are you good at a particular subject, preferably English or Math? Put those knowledge into good use and offer tutorial services. Many working parents these days are willing to pay for tutors since they could have a hard time squeezing study time as soon as they get home. If you can't offer tutorial services, then at least anyone in the family can do for extra income.
9. Personal Grooming Home Service – Did you work as a barber, hair stylist, makeup artist, or spa personnel abroad? Use those skills by offering home service facilities. Compare the prices of said services in the malls and offer a competitive rate. Don't worry. People are more willing to pay for convenience.