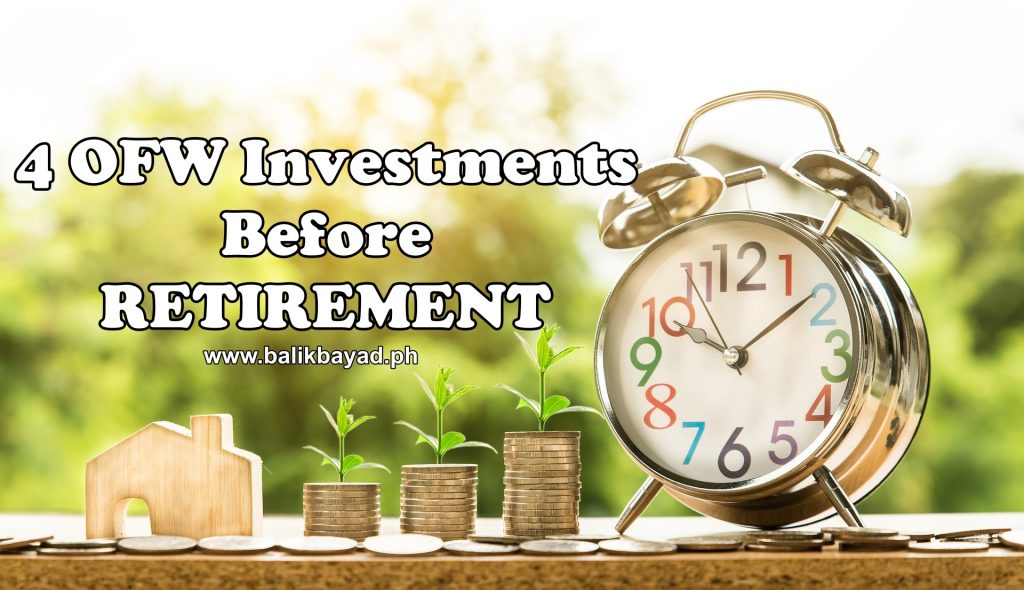 "Walang forever," so they say. In fact, this saying applies in OFW life. Your work abroad is only as good as the duration of the contract, with risk of being cut short due to unforeseen events. Once it ends, you have no choice but to go back and look for another job because you have mouths to feed and bills are piling, waiting for payment.
Does it really have to be that way all the time?
The good news is you change that. It takes a lot of commitment and discipline because you need to make the most out of your stay overseas. While you're in there, make sure you save up for these investments because these will help you as you head back home – for good:
1) Real Estate
It could be a house and lot, land, or a condominium unit. Whatever it is, it is a property you can call yours. Plus, real estate is a realization of all your hard work and sacrifices overseas, which is why you need to save up for it.
What if you already have your own house and lot? That's okay. If budget permits, you can purchase another property and turn it into a money. You can offer it for lease or sell it at a higher price (although you need to wait a little longer if you plan on selling soon).
Find out how SSS or PAG-IBIG can help you achieve your dream home.
2) Investment
Aside from real estate, an investment portfolio is something you should save for while you can still work abroad. The reason is simple: it grows your money. If you invest your P10,000 today, there is a higher chance that it will be higher than the original investment amount two or three years after.
There are several options you can choose from. You can start with UITF or mutual fund since these two are pooled funds managed by a professional fund manager. This set-up is ideal if you are just starting with investing and still learning the ropes.
If you are willing to take the risk for higher returns, then try stocks. This is recommended since companies give dividends at least twice a year as well. If you are more on the safe side, government or corporate bonds can be a good choice.
READ: Investment Options Below P10,000.00
3) Insurance
Similar to investment, not many people are into insurance for the simple reason that they "do not understand how it works." Apparently, you will need one, especially if you are after peace of mind.
You can go for life or health insurance to protect your family against financial burden in case something happened to you, although these are the traditional ones. Insurance companies offer products like Variable Universal Life (VUL) where you are insured and money is invested both at the same time.
4) Business
You need something that will sustain you and your family as you go back to the Philippines. Even if you have enough to get by, the money in your savings account will be depleted – and you don't want that to happen.
What can you do? Try to put up your own business. Start your own while you're still overseas or your spouse can put it up so s/he has something to do while you're away. Plus, you and your family get to earn something extra, so they don't have to depend solely on remittances. How can you say no to that?
READ: Business Ideas You Can Try with Little Capital
You will have to go back home and settle here. Prepare for that day to come by saving up for these investments. This will lead to a more comfortable life as well.