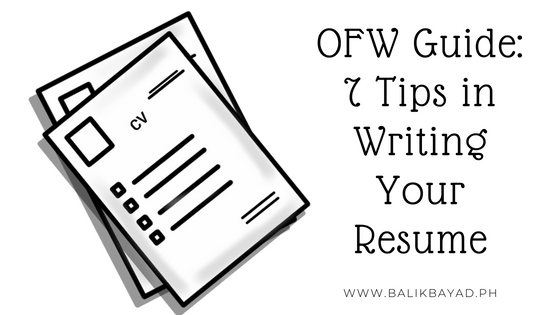 You're walking in Manila, knocking from agency to agency, and submitting your resume. At one point, at least one agency will give you a call and hopefully give you a chance to work overseas, which leads us back to the purpose of this post: your resume. 
Resume is defined as a document that contains one's educational background, skills, and work experience among others. Although it does not cover the entirety of a person, one's resume gives companies and headhunters an idea about the person and whether or not s/he is qualified for a job. If the agency sees that you are not fit for the job, then you won't get a call for an interview.
What does this mean for someone like you who wants to work overseas? You need to make your resume stand out – and here's how you can do it:
1. Stick to a simple format. 
Apparently, colors and putting emphasis on certain aspects in your resume won't work. Agencies receive hundreds of applications everyday and they are under pressure to review each and every resume sent to make sure that they shortlist the right guys for the job.
Keep your resume format simple and easy to read. Stick to basic fonts like Arial or Times New Roman and font size should be 11 or 12. Use the same font and size all throughout the resume as well. If you need to emphasize on something, use the Bold function.
2. Your resume must be tailored according to the job you are applying for. 
This is applicable IF you already have a specific job in mind. In that case, make sure you include work experience, trainings, and certifications or licenses related to the job's needs. Anything not related to it must be removed. This will make it easier for the agency representative to sort those who are fit for the job based on previous experiences from not.
3. Enumerate skills and relevant experiences in bullets. 
You would be tempted to explain your previous jobs, but believe it or not, save that for interview. What you can do is to enumerate skills, certifications, and relevant work experience – and make sure it is in BULLET form. This will make it easier for the agency to gather what they need to know about you and differentiate you from the rest.
Also, keep it short and maximum of two lines only.
4. Use relevant keywords in your resume. 
Many agencies are going online, often asking applicants to submit resumes through their online database instead of you going directly to their office. This will make it easier for them to sift through voluminous applications with the help of program or app.
Therefore, use the right keywords. Make sure you include in your resume the job position they are looking for. If you have a previous experience from the country destination, then include that as well.
5. Choose your references wisely. 
Your obvious choice for references would be your closest friends. After all, you want to ensure that someone will say good things about you to get the job and your closest friends could do that. Unfortunately, this won't help once the agency ask about how you are at work.
In that case, go for previous employer or colleague who saw how you perform at work. This way, they can give unbiased feedback to your future employer.
6. Do not lie and do not exaggerate. 
Admit it. You're tempted to put things that you never experienced just to make your resume look good. Apparently, lying is a big no-no and employers can easily find out once they started with the interview.
What should you do then? Honesty is still the best policy so make sure you are honest in your resume. Only list what you actually experienced and achieve. Keep it real and never exaggerate.
7. Keep it short. 
For emphasis, recruitment agencies receive hundreds of applications / resumes daily. If they see a resume that looks like you're submitting your thesis, then they won't even bother read it.
Keep it short. If you can, condense your resume to a maximum of two pages. Don't attach certifications or license obtained, diploma, transcript of records, and the awards you received from your previous employer. Enumerate them in bullet form and show proof when you're called for an interview.
Don't be afraid when writing your resume. Remember these three things: simple, short, and real. Good luck!