According to the Department of Education, there are seven million Filipino children who did not enroll for the school year 2020 – 2021 (1). This is not a good sign.
Unenrollment may be due to several factors: lack of confidence on how effective distance learning is or limitation on tools and access to technology. On the other hand, the most common reason is lack of funds as a result of the parents' unemployment.
For OFW families, this could also be the problem. The OFW sector is heavily hit by the pandemic as thousands of migrant workers were either repatriated or no longer allowed to leave due to strict restrictions whether in the Philippines or host country (2).
In line with the this, the Overseas Workers Welfare Administration or OWWA launched Project EASE, an educational aid for OFW families.
What Is Project EASE?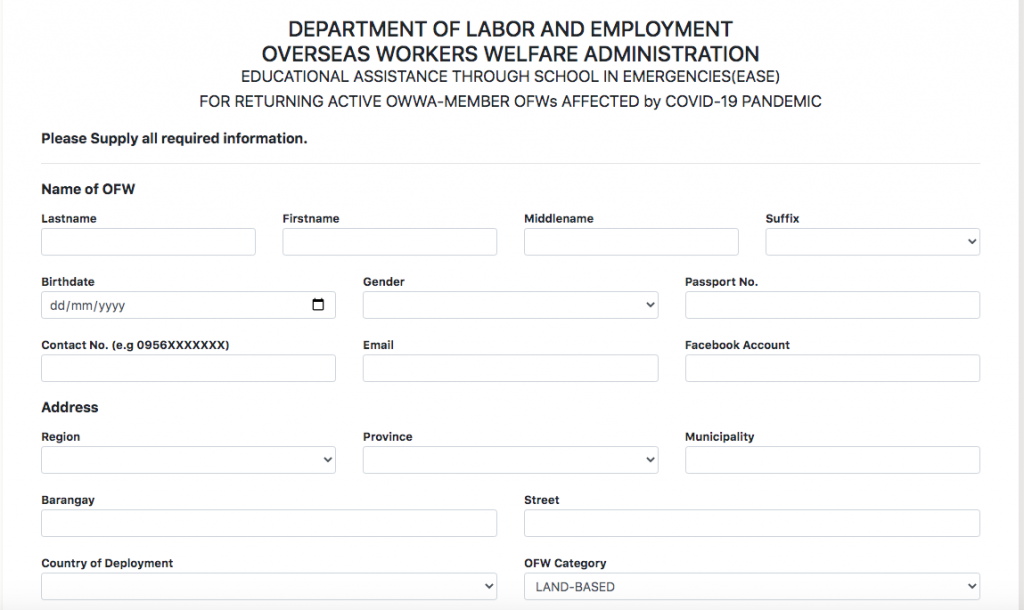 Educational Assistance through Scholarship in Emergencies or Project EASE is an education assistance to qualified college-dependents of active OWWA members whose employment was affected by the pandemic since February 1, 2020. By active members, this could mean:
Land-based workers
Sea-based workers
Balik Manggagawa
This educational assistance provides P10,000 per annum for a maximum of four years.
So far, the agency allocated P400 million for the implementation of the project on its first year.
Who are qualified for this educational assistance?
Eligible dependent of active OWWA members include:
Child of married or single parent – OFW
Sibling of single OFW
The beneficiary can also be an incoming college freshman or currently enrolled in college.
For married OFW couples, you are only entitled to only one slot.
Take note that if your dependent is already getting other educational assistance from OWWA such as Education for Development Scholarship Program or EDSP, ODSP, or ELAP-Education, then s/he can no longer avail of the benefits of Project EASE.
What are the requirements?
Accomplished Application Form. You can access the form by clicking on this link.
Valid passport of OFW-member
Flight ticket of boarding pass or arrival stamp/sticker attached in the passport. This will serve as evidence that the active OWWA member arrived in the country after February 1, 2020.
Official Receipt or other proof of validation that will show that the OFW is also an active OWWA member
Student-applicant's proof of relationship to OWWA member such as Birth Certificate for

married or single parent OFW

OR Certificate of No Marriage and Birth Certificates of both the OFW and the sibling if

active member is single

.
Certificate of Grades of the student-applicant indicating the grades from last school year or semester. Take note that there should be NO failing grade in any subject.
How to Apply For Project EASE
Fill out the online application form.
Submit all the requirements through the OWWA RWO email. You can check this link for the OWWA Regional Welfare Office that covers your area.
You will receive a tracking number or serial reference, which will be sent on your registered mobile number or email address. You can use this reference to monitor the status of your application. In case of incomplete documents, the respective OWWA RWO will also inform you through SMS or email.
If approved, OWWA will send you a Scholarship Agreement. Download, print, and then sign the document. This must also be

notarized

.
Send the Scholarship Agreement via courier on the designated OWWA RWO that handled the application.
Financial assistance will be sent to the designated bank account. Take note that the

bank account must be under the name of the beneficiary

. Otherwise, you will be required to open a savings account under your child or sibling's name.
Keep in mind that this educational assistance will not cover your child or sibling's entire tuition fee. Nonetheless, it could help augment various expenses like books and other school materials.
For more details, you can visit OWWA website.
Note: Balikbayad is NOT affiliated or related with OWWA. This article is merely for informational purposes only.
Reference:
(1) https://rappler.com/nation/teachers-group-says-millions-students-still-unenrolled-july-13-2020
(2) https://www.manilatimes.net/2020/08/11/opinion/editorial/repatriation-of-ofws-is-a-national-obligation/753655/