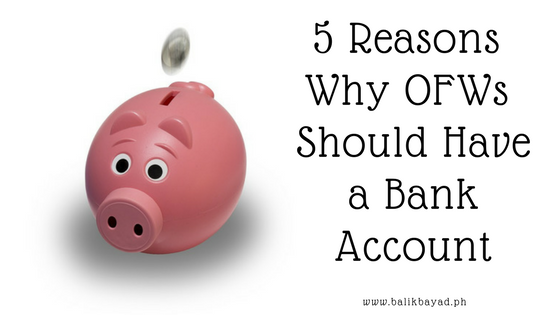 Do you have a savings account? If yes, then that's good news. At this point, what you need to do is to keep it updated and work harder to grow your money. Otherwise, you are part of the 86 percent of Filipinos with no bank account and you're off to a bad start.
There are many reasons why Filipinos don't have a bank, or savings account in particular, despite the hundreds of branches scattered in the Philippines. Some say:
Location of the bank is too far from their place
They do not feel the need to open an account nor transact with banks
Managing an account and maintaining its minimum required balance can be difficult for them
Service charge they have to pay since they weren't able to maintain the required deposit
They simply don't want to deal with banks who "favor" the rich
Here's the truth: banks may be profit-oriented, but they mean well. Just like you, they don't want risks too, which is why they ask a lot of information to verify your identity. In fact, they can be helpful in times of need. In case you are one of the 86 percent of Filipinos with no bank account, here are reasons why you need to open one as soon as possible:
Reason No. 1: You can earn money by saving. 
It may not be that big compared to other investment products, but having a savings account allows you to earn and grow your money. There are also bank accounts that offers additional interest if there is no withdrawal for the month. It may be P50 every month, but can you find someone who can give that to you – and more? More so, you can't get that when you leave your money in your piggy bank or hidden under your clothes.
Reason No. 2: Encourages you to save more. 
Being an OFW is not forever. Your employment contract will end after two or three years and soon enough, you'll find yourself going back home with no assurance of employment. This is why it is important to have a savings account. You are not only able to earn money through interest but also encourages you to save more since the higher the amount, the bigger the interest will yield. More importantly, your money is "hidden," thereby lessening the temptation of spending it.
That's not all. Every time you see the amount growing, this will surely keep you motivated to save more.
Reason No. 3: Electronic fund transfer or sending money to your family is easier. 
BPI, BDO, and Metrobank – these are some of the banks that offer remittance facilities to OFWs.  The good thing about this is that coursing your money through banks is safe and you are more assured that your hard-earned money will reach your family back home. You also don't have to line up in remittance centers since you can do the transfer online. Apparently, this facility is only applicable if you have an existing savings account with them.
Reason No. 4: Easy access to cash. 
Whether you opened a savings account with ATM card or passbook, cash is still easily accessible for you. Lining up may take some time, but at least you know that whatever happens, cash will always be available because your were able to save up.
Reason No. 5: You can easily avail of online services. 
Don't just limit yourself with online banking where you can check your balance and send money. Now that many businesses are adopting the online trend, access to various services is easier for you. Using your account, you can pay for your family's utilities expenses and even use online shopping facilities. Just make sure to stick on your budget.
Check out this post to learn more about banks that offer savings account facilities for OFWs.