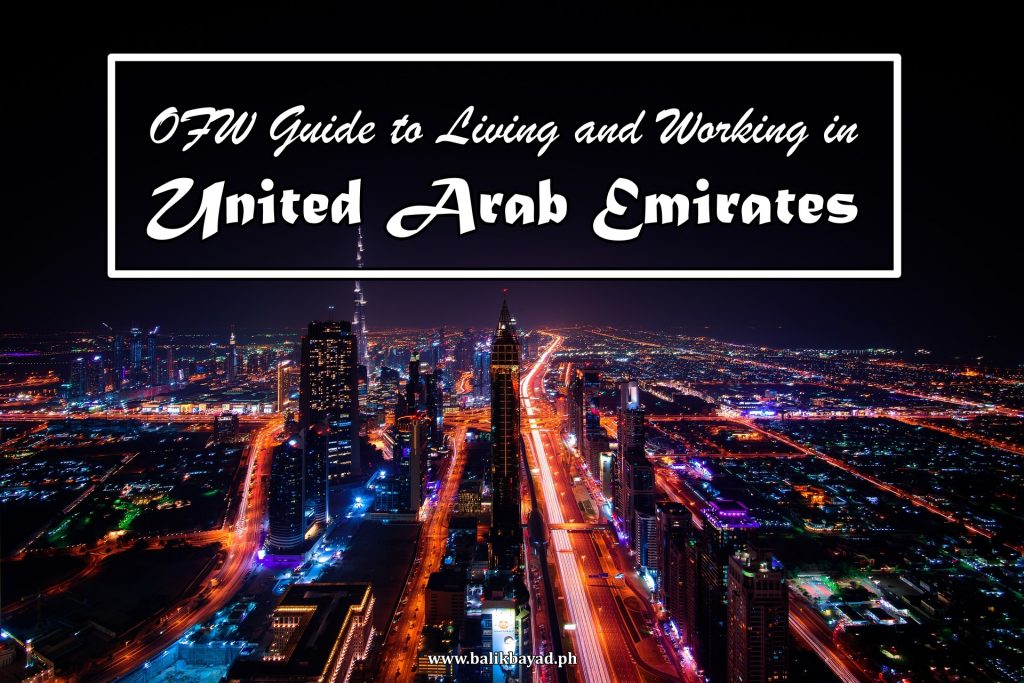 Aside from Saudi Arabia, United Arab Emirates or UAE is also another top destination of OFWs not just in the Arab peninsula but also in general. According to the Philippine Overseas Employment Administration or POEA, United Arab Emirates is the second top destination for OFWs next to Saudi Arabia – and it's not surprising why.
Compared to Saudi Arabia and its strict rules, UAE is a little more Westernized, especially in Dubai and Abu Dhabi. You will be surprised to see that it is easier to adapt to their culture and the country is more willing to embrace foreign workers.
If you plan to work in UAE, then read up because here are some things you should know:
1. United Arab Emirates is a federation of seven autonomous Emirates, which are Dubai, Abu Dhabi, Sharjah, Ajman, Ra's al-Khaimah, Fujairah, and Umm al-Quwwain. Majority of the population living in UAE are expats or foreign workers, thereby making locals a minority in their own country.
2. The official language in UAE is Arabic, but many people know how to speak in English because of the presence of many foreign workers. This will make it easier for you to converse, especially with the locals. Other languages include Urdu and Hindu.
3. Weather in UAE is one of the biggest adjustments you will make because of its sub-tropical and arid climate. During summer, which is April to September, temperature could go from 50 degrees Celsius during the day and -15 degrees Celsius at night. Sandstorms are also common in this country.
4. A previous trip to Israel will prevent you from entering UAE, even if you have a valid employment contract.
5. You can't just buy alcohol when you feel the need to unwind. A permit must first be secured before you will be permitted to buy alcohol from registered vendors.
6. Don't surrender your passport to anyone, including your employer. UAE laws do not authorize such act, so say no when you are asked to surrender your passport.
7. One of the biggest benefits enjoyed by foreign workers is the tax-free benefit. Utilities are also cheaper compared to other countries because of government subsidy. Still, don't get too excited on shopping. Luxury goods and international brand names are expensive, so think twice before you buy.
8. Get used to dealing with different nationalities (200 nationalities, to be exact) in your workplace, including 30,000 Americans. UAE is a haven for many expats, so be prepared to see differences in cultures and ways of life. Eventually, you'll get used to it. It would also help if you will join the Filipino community or attend group gatherings to allow you to socialize with other people and make you forget about homesickness even for a few hours.
9. Pay attention to the news and what's going on  in your society, Unlike the Philippines, UAE legislators pass laws quickly, which you need to be aware of because you are living in a different country. Plus, you don't want to violate laws, do you?
10. Do not apply for loans or credit card just to "shop." One of the reasons why foreign workers were in prison in UAE is because of their inability to pay their debt. If you can't pay it in cash, then don't buy at all. Or better yet, live within your means and remind yourself why you are working overseas in the first place.
11. Unlike Saudi Arabia, women have a place in the society. Women go to school, trained by the government to become Sunni Muslim scholars, and fill a good number of jobs in the government, so you don't have to worry about being discriminated on gender.
12. UAE is a Muslim country with Islam as its religion. Nonetheless, they are open and accepting to other faith denominations, with more than 40 churches or temples to house various religions.
Before you head to UAE, make sure to read up and learn as much as you can about this country. This way, it will make it easier for you to adjust because you have an idea on what to expect.