The Covid-19 pandemic hit us hard, regardless of where you are in the world. But one of the groups who were heavily affected was you, overseas Filipino workers.
The reality is there is a threat of losing your job because the company you're working for sustained heavy financial losses and may have to downsize. You cannot get side jobs for additional income because people need money for themselves as well. There are also a lot of OFWs who had no choice but to be repatriated.
What is the government's response to the burden carried out by thousands of OFWs? DOLE-AKAP program.
What is DOLE-AKAP for OFWs?
This program of the Department of Labor and Employment is intended for displaced OFWs as a result of Covid-19. Its main purpose is to provide one-time financial assistance of USD 200.00 or P10,000 or its equivalent to the local currency where the OFW is currently located.
This is part of DOLE's Covid-19 Adjustment Measure Program or CAMP amounting to P1.5 billion.
DOLE-AKAP covers:
Regular or Documented Workers – these are OFWs with valid passport, has appropriate visa or permit to work in the receiving country, and has Contract of Employment processed by POEA or POLO.
Qualified, Undocumented Workers – these are OFWs originally regular or documented workers but lost their status for some reason, OR whose contracts were not processed by POEA or POLO but have taken actions to regularize their contracts and status, OR active OWWA members at the time of the availment.
Balik Manggagawa – these are OFWs who are unable to return to their host country due to Covid-19.
What are the qualifications?
Worker must experience job displacement due to the receiving country's lockdown or quarantine policies.
Worker was infected by Covid-19.
Must still be in the overseas jobsite and currently experiencing "no work, no pay," or in the Philippines as Balik-Manggagawa, or already repatriated in the country
Has not yet received any financial support or assistance from employer or receiving country
How to Apply For DOLE-AKAP?
If you are still onsite / in the country where you are currently working –
Make sure you coordinate with your respective POLO. Each POLO has respective downloaded application forms. Once you secured a copy, fill it up and submit with it the following documents:
Copy of passport or travel document
Proof of overseas employment like work visa, residence ID, or OEC
Proof of loss of employment on the account of Covid-19
Proof that you are currently regularizing your worker status
POLO will evaluate your application within five working days. If approved, concerned POLO will release USD 200 through bank transfer or money remittance.
If you were repatriated / Balik-Manggagawa –
Step 1: Visit DOLE-AKAP online. You can access it by clicking here.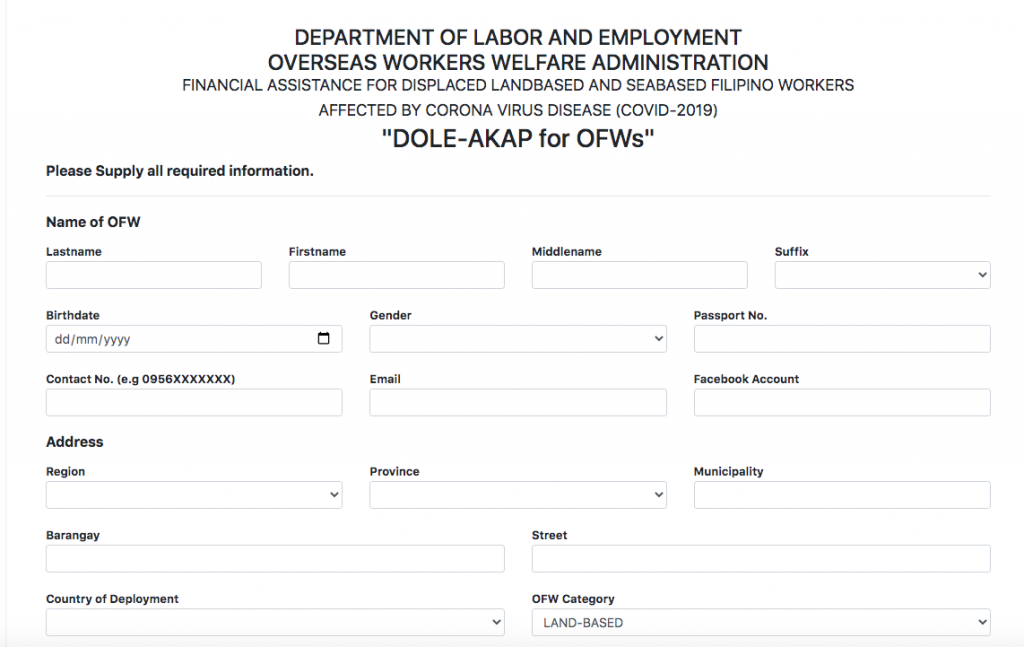 Step 2: Fill out the necessary information. Then click Next.
Step 3: Upload the following documents:
Passport or Travel Document
Flight ticket, boarding pass, or arrival stamp sticker on your passport. This serves as evidence that you returned to the Philippines.
Proof of overseas employment such as work visa, OEC, or Permit to Stay
Proof of loss employment due to Covid-19 or that the receiving country are included in the list of heavily-affected countries such as Notice of Termination of Employment, closure of the company issued by foreign recruitment agency or employer, Incident Report on termination of employment submitted to respective POLO, or Certification of Displacement issued by the Philippine Embassy or Consulate or POLO
For undocumented workers, upload proof of your intention to regularize your stay in the host country such as work visa, employment contract, and payslip.
Step 4: Once uploaded, click Submit. A confirmation prompt will appear.
Step 5: Check your email for the system-generated confirmation receipt. Take note of this.
Step 6: OWWA officers will review your application. They will contact you so make sure you have all the necessary documents on hand. Once approved, your application will be submitted to the DOLE Regional Office concerned.
Step 7: The cash aid will be transferred to your account within five working days.
As of this writing, 86,000 OFWs, both in and out of the Philippines, were given cash aid by the agency. The agency is currently targetting up to 150,000 overseas Filipino workers who were affected by the pandemic.