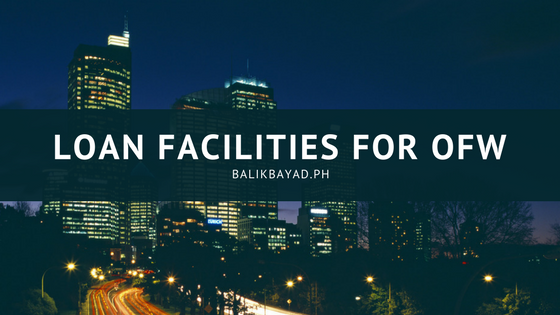 Who doesn't need money? Regardless of the currency of the money you are earning, everybody needs cash to pay for the rent, buy food for the table, and send the kids to school. Because of this need for cash, banks and other lending institutions came up with different facilities that will suit your specific needs.
This includes:
Personal Loan 
As the name suggests, this type of loan allows you to use the funds for whatever purpose. A personal loan allows you financial flexibility, which is why it is often turned to as a source of quick cash, especially during emergency situations.
Banks and other financial institutions offer different types of personal loans, depending on the borrower's needs. You can use the funds to pay for medical bills, tuition fee, home improvement, for vacation or travel, to sponsor special events, or even to buy furniture or gadgets.
The good thing about personal loan is that you get to enjoy low interest rates, flexible monthly terms that ranges from three months to 36 months, and limited collateral (for instance, time deposit). On the other hand, the amount of loan is limited, with some banks allowing up to P1 million only. Nonetheless, you can borrow as little as P10,000.00
Car Loan 
If you are looking for a vehicle, whether brand new or previously-owned, then lending institutions can help you get one through Car or Auto Loan.
Compared to personal loan, auto loan lends you money for the purchase of your vehicle, which you need to pay within three to five years, depending on your arrangement with the bank. You get to enjoy low interest rates as well, although you might have to pay higher monthly amortization if you will buy a previously-owned vehicle.
Home Loan 
Do you want a place you can finally call your own? In that case, a housing loan facility is best for you.
A Housing Loan allows you to buy a newly-developed lot, a residential house and lot or condominium unit, or to pay for the construction or completion of a residential unit. You may also opt for a Housing Loan to refinance an existing home mortgage or to improve or renovate an existing property.
Unlike Personal and Auto Loans, a Housing Loan can be heavy on the budget. Housing Loans are long-term loans that you can pay within 15 years or less, depending on the terms agreed upon with the bank. This type of loan facility also require mortgage, which is usually the property you are planning to acquire or renovate.
When applying for a Home Loan, it is important to compare the rates and payment terms offered by various banks. You can also check SSS Direct Housing Facility Loan or Housing Loan from PAG-IBIG to get you started.
Business Loan 
Surely, you don't want to work overseas forever. As much as possible, you want to settle in the Philippines with your family and open up a sustainable business, no matter how small it is.
In that case, you can consider getting a business loan. This will provide you enough capital to get you started and open up and grow your business. The loanable amount, which ranges from P100,000 to P2 million, may vary depending on your security.
Before you apply for a loan, identify your needs and establish the goals you want to achieve. This will make it easier for you to determine the kind of loan facility that will suit for your needs.