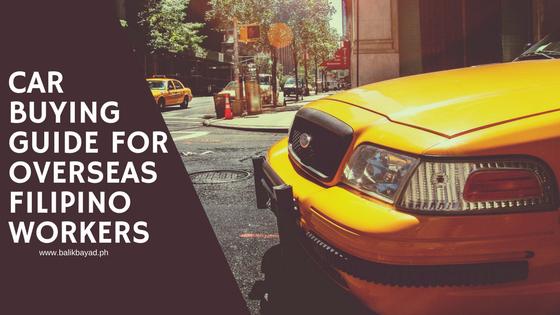 Who doesn't want to own a car? Aside from your Dream Home, you surely want a vehicle that can bring you and your family from point A to point B with ease and comfort as part of the fruits of your labor. Similar to a house, buying a car can be costly on your wallet too.
The good news is banks and lending institutions offer Auto Loans and catered specifically to Overseas Filipino Workers. Similar to other types of loan, a Car Loan requires you to pay monthly installments, including interest rate. Typically, an auto loan is good for one to five years, depending on your capacity to pay.
Before you apply for one, make sure you remember the following things:
1) Know what you want. 
Cars can be divided into two major categories: brand-new and previously owned. Before you start with your research, decide what type of car to buy first then move on from there. Look into your options – the brand, car specifications, gas or diesel, expected maintenance costs. If you are planning to buy a previously-owned vehicle, the car's mileage must also be considered. You should look into the car's overall functionality as well, which leads you to this next pointer.
2) Think about the people who will ride the car. 
You want a sports car so bad and that's fine; however, can you and your kids fit in there?
When looking for a car, consider the people who will ride in it. It should be able to house your family comfortably, especially during long travels. This is why it is important that you choose a car that will meet both reliability and functionality.
3) Set a budget. 
Car, whether brand new or previously-owned, is expensive. If you are diligent with your savings, you can use that amount to cover the expenses for buying a car. On the other hand, you can apply for a Car Loan  to make the purchase more manageable without immediately breaking the bank. This will limit your choices as well.
4) Car loan duration also matters. 
Here's another question you need to ask: how long are you planning to pay for the auto loan?
Car loan often comes in three periods – 36, 48, and 60 months. Each loan duration has its pros and cons. Opting for the 60 months could yield lower monthly amortization, but are you willing to pay for a vehicle for that long? On the other hand, you may choose the 36 months; however, the monthly amortization can be higher.
Most lenders have built-in loan calculators that allow you to check how much will you pay given this time frame.
5) Your credit standing also matters. 
Let's say you can shoulder 30 percent of the car's purchase price and will only ask the bank to shoulder the remaining balance. Does this guarantee approval?
The answer is no.
Regardless of how much you can shoulder, lenders will still look into your credit standing to determine if you are worthy of credit. Don't worry. You can still boost your credit standing with the help of these tips.
6) Choose your lender wisely. 
At this point, you already decided what car to buy. The next step is to choose a lender that will help you finance your purchase.
Don't go from bank to bank and submit an application. Utilize the Internet, compare the rates lenders offer, and trim your choices to two. Inquire personally, don't be afraid to ask questions, and observe how the bank staff will treat you. Remember: they should treat you as a partner and not just a borrower.
7) Don't forget to read the fine print. 
Banks and other lending companies can be creative in coining terms that aim to extort money from you without you even noticing it. Before you sign the contract, make sure to read the fine print and ask questions when there are terms you don't understand.
Are you ready to buy your own car?