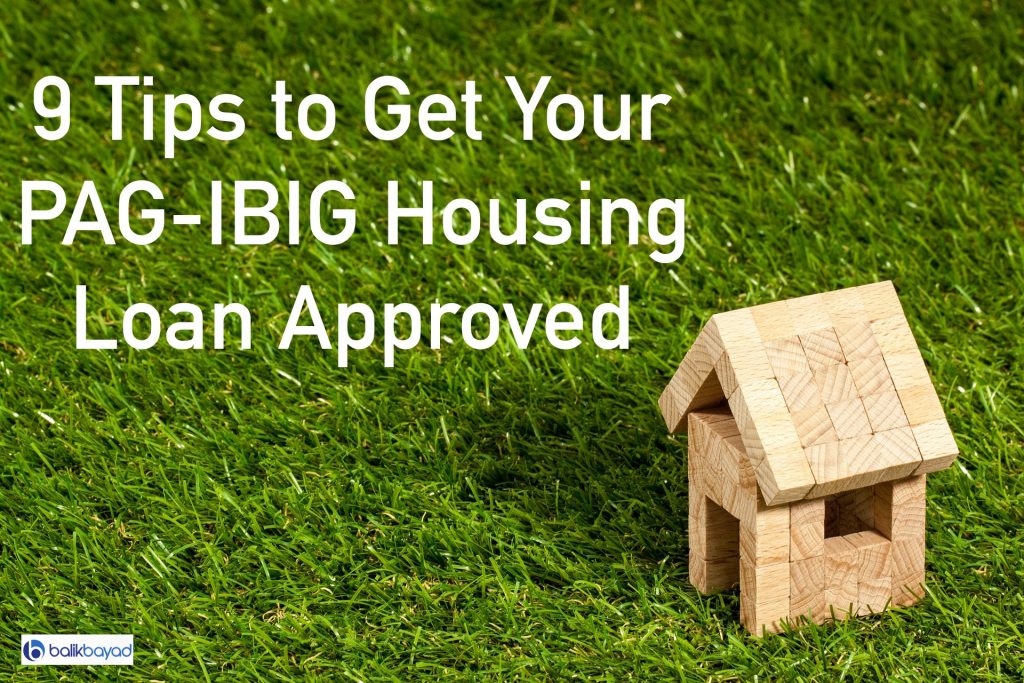 We get a lot of inquiries about PAG-IBIG Housing Loan for OFWs. This post is intended to boost your chances of approval, although not 100 percent guarantee. 
Are you planning to buy a new home for your family? What about extending your home to the recently acquired lot and have your house renovated? These situations entail cost, which also means big money is involved. In case you don't have extra funds to do so, you rely on PAG-IBIG, the government agency responsible for providing accessible funds for housing for every Filipino.
According to the latest news from PAG-IBIG, the agency released more than P32.7 billion worth of housing loans for the first half of 2018 alone. This is not surprising since interest rate range from 5.35 percent to 10 percent with up to 30 years repayment terms. Compared to banks, PAG-IBIG offers the most affordable housing loan facility for all its members, including OFWs.
Here's the challenge: how to get that much-needed approval.
Read up as we share tips that, although won't guarantee 100 percent approval, but could boost your chances of getting that housing loan:
1. Prove that you have a stable source of income. 
This is a must. Despite the affordable rates to help you become a homeowner, it is important to show the agency that you are capable of paying.
When applying, make sure you provide a copy of your employment contract as well as other income documents that will prove how much you are earning. If you have an existing business, submit financial statements that reflect how much you earn. This will give PAG-IBIG an idea that you can pay the loan no matter what happens.
2. Any PAG-IBIG loans must be settled first. 
This is another must. In case you have previous and unpaid loans from PAG-IBIG, whether it;s a housing loan or multi-purpose loan, then make sure you pay up. Otherwise, this could be a good reason for the agency to deny your loan application.
3. Set a realistic loan amount. 
This is another mistake made by many loan applicants – aiming for the maximum loan amount to borrow. While PAG-IBIG offers up to P6 million, this doesn't mean you will automatically qualify for it.
This is why it is important to submit proof of income to show the agency that you are capable of paying the loan, regardless of the amount. Don't expect to get approved for P6 million when you are earning less than P100K every month. More importantly, use the online loan calculator in PAG-IBIG's website to give you an idea on how much you need to earn to cover for the housing loan.
4. Pay for a higher down payment. 
Do you want to know a secret? If you want a housing loan approval from PAG-IBIG, then make sure you can pay a higher down payment.
PAG-IBIG could help you buy your dream home, but don't put the burden on the agency. As much as possible, provide at least 20 percent equity or the value of the property. If you can pay more than 20 percent, then much better and higher chances of approval as well.
5. Apply with a co-borrower. 
Many people ask how they can avail of any type of loan when they don;t have property for collateral. The answer is simple – apply with a co-borrower. Still, it's not just any co-borrower. S/he should be someone who is regularly employed and with excellent credit history if you want to increase your chances of approval.
"Can I apply with more than one borrower?" The answer is yes. In fact, PAG-IBIG allows up to two co-borrowers who are up to second-degree relatives to apply for a housing loan.
Tip: Consider getting a co-borrower who lives with your family. This way, s/he would be more willing to help you out.
6. Buy a home that is within your budget. 
You might want to buy that penthouse in a posh location in Makati, but can you actually afford the monthly amortization?
If you want approval from PAG-IBIG, then make sure you go for a house that you can afford to pay every month. It may not be your dream home, but going for a home that you can pay is much better than living in that dream home for only a few months because you can no longer pay for it monthly.
7. Improve your credit score. 
This is important. Your credit score will tell lenders like PAG-IBIG regarding your capacity to pay and how responsible you are as a borrower. If they see that you miss payments, then how do you expect the agency to approve your loan application?
Don't worry. You can do something to improve your credit score by following these tips.
8. Submit all the requirements.
It sounds simple, but believe it or not, this could spell a big difference in your loan application.
What you can do is to make a checklist of all the requirements and use it as your guide before you submit your loan application. Compile everything in one envelope and make sure it is complete upon submission.
9. Attend the PAG-IBIG Housing Loan Program Orientation. 
Did you know that this orientation was mandatory before you apply for a loan? At present, the agency conducts free seminars to anyone who wants to apply for PAG-IBIG Housing Loan. This is a good opportunity for you to learn more about this facility and at the same time, get answers directly from PAG-IBIG officials.
Below are the schedules:
First and third Saturday of the month at 2/F, Jelp Business Solutions Building, 409 Shaw Blvd., Mandaluyong City
Every second Saturday of the month at 3/F Lecture Hall A, Legislative Building, Quezon City Hall
Every third Saturday of the month at Rizal Provincial Capitol, Multi-purpose Hall, Antipolo City
Seminar is from 9:00 am to 11:00 am. If you want to join, make sure you'll call them first at (02) 724-4244.